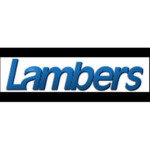 Course Rating:
 ★★★★★
Lambers CPA Review
has been helping students pass the CPA exams for over 45 years and they guarantee that you'll pass too!
The review course has been tailored by actual Lambers instructors to only teach the information needed to pass the exams. It's a straightforward, no nonsense, traditional kind of course.
---
Strengths
1. "Born in the Classroom"
All Lambers materials are prepared by highly qualified instructors. They tailor and adjust the information to what they see you having trouble with and teach only the information that you will need for the exam. It cuts it down to only the information that you will need to pass the exams. "No hype – no fluff". Just that old-school, straightforward teaching style.
2. Intuitive Software
The Lambers software is very user-friendly and easy to navigate. The highlight of the software is the Pre-Test and Adaptive Drill Mode. Once you've established your baseline skill set in the Pre-Test mode, you move onto the Adaptive Drill mode which focuses on the specific areas that you've already noted as weaknesses. The software tracks these needed improvement areas and really helps you focus in on and practice them. This is such a valuable tool since it helps cut out the time you waste on the areas you already know.
3. Audio Course
Lambers provides an option for the Audio Course which turns all your idle time into study time. The Audio Course is compatible with any MP3 player and comes with CD's. The audio covers the Lambers textbooks and then goes through hundreds of questions and problems worked out by the professors. It's perfect for you if you are an auditory learner who learn best from listening and is also really good if you are always on the go. It maximizes study time during really unproductive times (gym, driving, laundry, doctor's appointments, etc.).
4. No Pass No Pay Guarantee
Lambers is so confident that you will pass that they offer a full refund if you fail your exam. The only conditions to qualify for this refund are that 1) it was purchased directly from Lambers, 2) the corresponding exam was failed twice, and 3) the returned materials must be received or postmarked no later than 30 days after receiving the second failed notice.
Also, their Video Courseware is updated for free for one year after purchase.
---
Weaknesses
1. Lectures aren't Entertaining
If you're looking to be entertained and just can't study without being completely engaged by an instructor, then this course is not for you! Lambers is very traditional in the sense that instructors are meant strictly to teach the material, not to entertain you.
2. Lack of User Feedback
Although Lambers has been around for years, it's not one of the review courses pushed by big firms. There isn't a ton of user feedback for CPA candidates to refer to when choosing this review course. I think that with such little feedback, it's hard for most people to feel comfortable choosing a course that is not widely known.
3. Low Quality Videos
The information presented in the lectures is good quality but that is anything but true for the resolution of the actual videos. The videos are of really low quality which feels like you've gone back in time. I swear, it's reminiscent of those old school 80's VHS training videos. Total time warp!
---
Conclusion
If you're a great self-studier and you're into the "no hype, no fluff" teaching style, then this course can work for you. However, I wouldn't recommend using Lambers as your primary review course. I would suggest using the audio for on-the-go studying and only the full Audit Review section from Lambers (it has highly reviewed instructor from actual students). It's a quality review course but I think that there are other courses that are more comprehensive as a whole over Lambers.
Compare the Top 5 CPA Review Courses!
Written by:
Jessica Davis