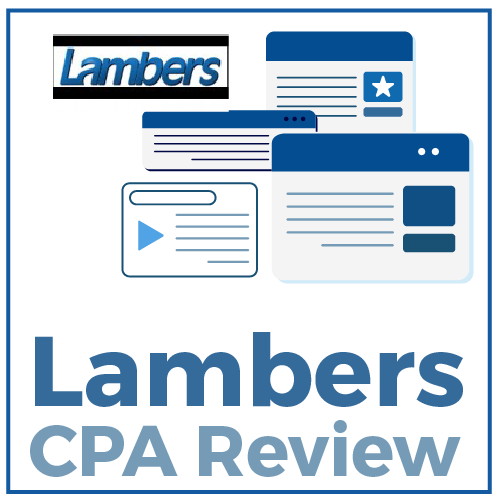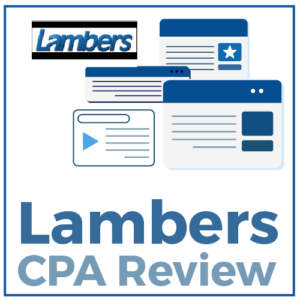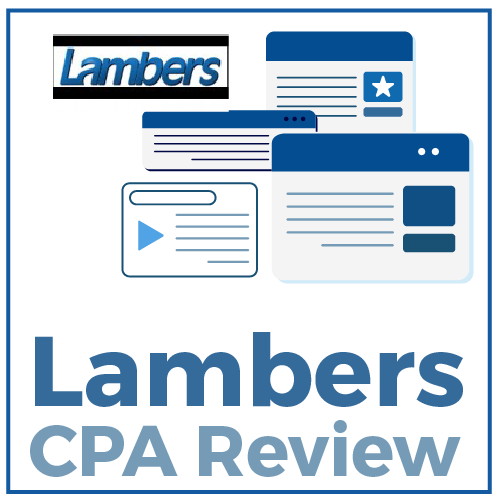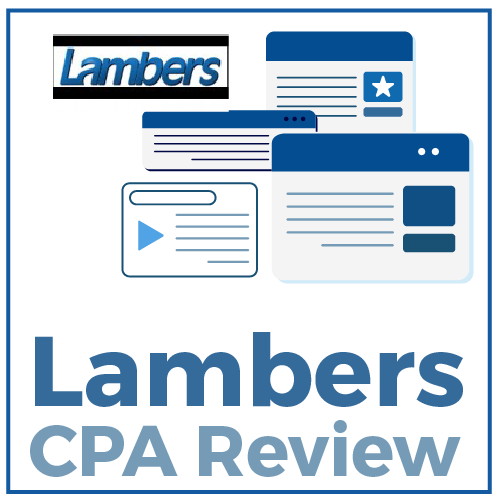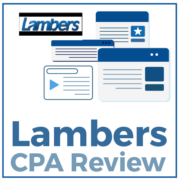 Lambers CPA Review
has been helping students pass the CPA exams for over 45 years and they guarantee that you'll pass too!
The review course has been tailored by actual Lambers instructors to only teach the information needed to pass the exams. Essentially, the learning style provided by a Lambers CPA review course is straightforward, no-nonsense, and traditional.
---
Strengths
1. "Born in the Classroom"
All Lambers CPA exam review materials are prepared by highly qualified instructors. They tailor and adjust the information to what they see you having trouble with and teach only the information that you will need for the exam. It cuts it down to only the information that you will need to pass the exams. "No hype – no fluff". Just that old-school, straightforward teaching style.
2. Intuitive Software
Lambers CPA Review's software is very user-friendly and easy to navigate. Additionally, the highlight of their test prep software is the Pre-Test and Adaptive Drill Mode. Once you've established your baseline skill set in the Pre-Test mode, you move onto the Adaptive Drill mode which focuses on the specific areas that you've already noted as weaknesses. The software tracks these needed improvement areas and really helps you focus in on and practice them. This is such a valuable tool since it helps cut out the time you waste on the areas you already know.
3. Affordable Catalog
Lambers provides an option for students who want to save some money on their CPA review, although it's most beneficial to repeat test takers. This is because you can easily sign up for a course covering one of the four different CPA exam sections (FAR, BEC, REG, AUD) and focus your studying on that alone. If you didn't pass the exam because you messed up on one section, this can quickly and cheaply prepare you for a much better score on your next attempt!
4. Supportive Staff
For the most part, you shouldn't expect to encounter any issues with Lambers' dashboard or course materials. But if any issues arise, this company offers a dedicated support team to quickly resolve any of your issues. Have a problem answering a certain question? Log into Lambers community forum or use their 24/7 Instructor Helpline to get some extra academic advice. Alternatively, you can call, email, or tag their support team on social media for a quick fix if you experience problems with their online dashboard.
---
Weaknesses
1. Lack of User Feedback
Although Lambers has been around for years, it's not one of the review courses pushed by big firms. There isn't a ton of user feedback for CPA candidates to refer to when choosing this review course. I think that with such little feedback, it's hard for most people to feel comfortable choosing a course that is not widely known.
2. Questionable Guarantee
Like many CPA prep courses we cover, Lambers offers a guarantee that you will pass the CPA exam; failing means you'll be entitled to a refund on your course enrollment costs. However, the fine print for their guarantee stipulates that you must fail the exam twice for it to qualify. For that reason, you're better off enrolling in this course if you're already on your second (or third) CPA exam attempt.
---
Conclusion
If you're great at self-study and into the "no hype, no fluff" teaching style, then a Lambers course can work for you. However, I wouldn't recommend using Lambers as your primary review course. I would definitely suggest using their Audit Review section if you struggle with that part of the full exam: it has highly reviewed instructors from actual students. Ultimately, it's mostly effective as a final review or cram course if you're really struggling and need some extra help.