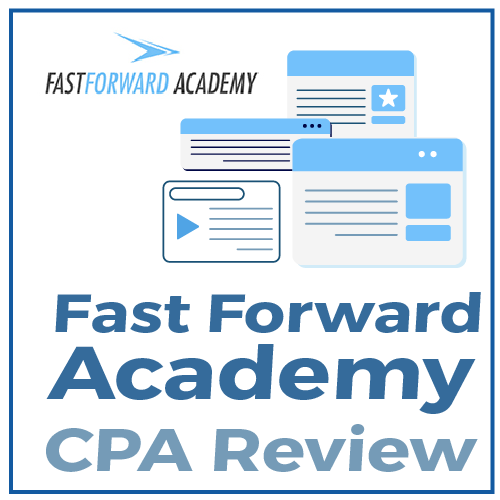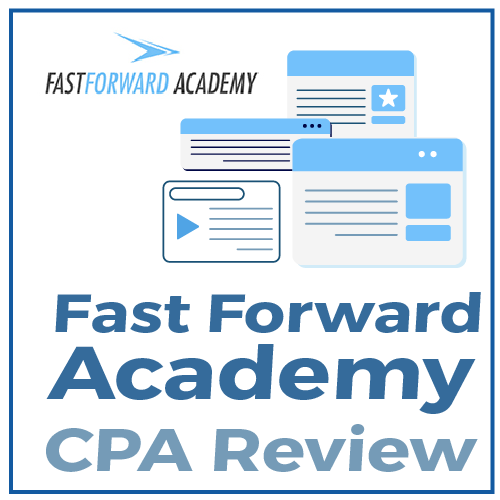 As of 2023, Fast Forward Academy no longer offers CPA courses. Fortunately, we have several other top-rated courses we highly recommend. Our Best CPA Review Courses of 2023 article is a good place to start. You can also check out our review of Becker CPA. 
Course Rating: ★★★★★
Fast Forward Academy CPA Review is an informative prep course with a ton of enticing features to ensure students succeed at learning the material as quickly as possible. They have a lot of unique features that you won't find in other CPA review courses.
Keep reading to learn more about what makes this course so great. Also, find out about some nagging criticisms that hold it back from its full potential:
PRO: Smart Technology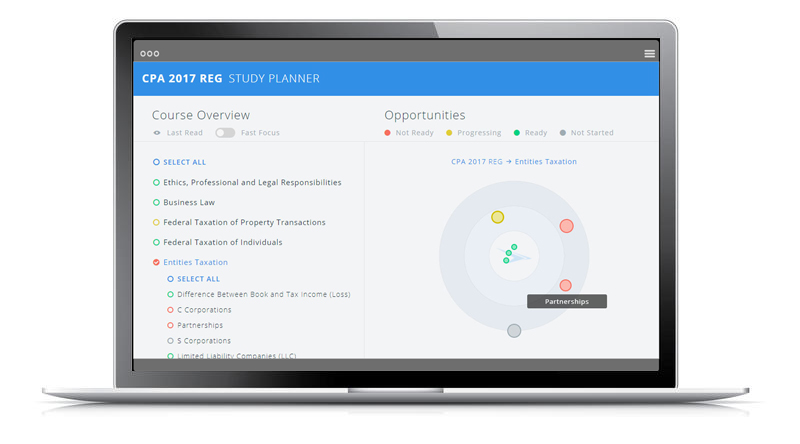 Fast Forward Academy understands that the key to passing any test, including the CPA exam, is to pick a rigorous study course and stay on track. Their intuitive study planner is a reflection of that ideology with its fully customizable and responsive interface that helps to prevent students from stagnating during their valuable study time.
Sometimes life can get in the way of prior commitments, such as a rigorous study schedule, and there may be a need to reschedule tasks or skip a few study days. Fast Forward Academy understands this and set up their course so that students can drag and drop tasks and automatically rearrange their calendar to keep their end goal the same. The adaptive learning tools that analyze students' comprehension of the material and focuses around bolstering their weaknesses is just icing on the cake.
---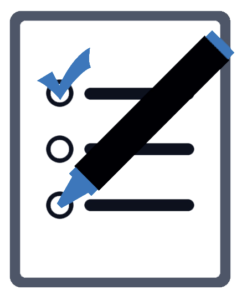 PRO: Unlimited Practice Exams and Updates
Students who spring for the Online or Smart Bundle courses will have unlimited access to all study materials until they pass the CPA exam. That means that they never expire and all updates are provided free of charge, with access only being removed once the materials are no longer needed. Removing the pressure of finishing the course in a limited period of time is a great way to prevent undue anxiety in enrolled students, and can serve as an enormous load off their minds.
PRO: Excellent Community Features
For students who are stuck on certain sections of the coursework and feeling discouraged, the option is available to contact an instructor or other students in the course for guidance. With the purchase of the Online or Smart Bundle, full access is granted to the Fast Forward community in a seamless manner baked right into the rest of the course material.
This is a highly intuitive and effective way of connecting to other students and receiving feedback on nagging questions. In addition to being able to post questions, students can read questions left by other students and help them through their sticking points so that everyone has the greatest possible potential to pass the CPA exam.
---
PRO: On-the-Go Access
Although they don't have a dedicated app for modern smart devices, Fast Forward Academy's course is fully compatible with these devices. Simply accessing the website from students' device of choice will grant full functionality and access to their test bank, eBooks, and study planner. Just about every modern device is compatible, whether it runs OSX, iOS, Windows, ChromeOS, or Android.
---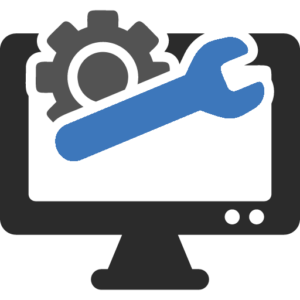 CON: Poor Legacy Support
Although the support Fast Forward Academy's CPA review course provides for modern devices is impressive and convenient, the unfortunate downside to its design is a lack of support for older devices. Any customers using outdated hardware or software that has trouble running advanced website technology such as HTML5 will suffer from slowdowns, crashes, and other aggravating errors.
On the mobile side of things, this could have been mitigated with the development of a companion app. This is a strategy many competing CPA test prep providers have adopted to varying levels of success. With an app designed specifically around a phone's architecture, students can receive an optimized experience on mobile even if they didn't have the latest and greatest devices. However, the current setup for Fast Forward Academy's program limits their legacy support.
CPA Exam Study Guide
$600

Includes print version of FFA textbook
---
CPA Online Course
$1,159

Includes online version of FFA textbook, 6,800+ study questions, 80 hours of video lectures,
digital flashcards, and full access until you pass
---
CPA Smart Bundle
$1,399

Includes everything in CPA Study Guide and CPA Online Course bundles
FREQUENTLY ASKED QUESTIONS
Still not sure if Fast Forward Academy is the right course for you? Take a look at our answers to some of the most commonly asked questions?
Does Fast Forward Academy have a return policy?
All Fast Forward Academy bundles come with a 30-day guarantee that entitles customers to a full refund if they request one in this time period.
Does Fast Forward Academy offer financial aid?
Financial aid is limited to a 0% APR financing plan for their CPA Smart Bundle. This plan allows students to pay for the course incrementally over a 12-month period through a third party, subject to credit approval.
Does Fast Forward Academy have a free trial?
Fast Forward Academy provides 3 days of access to a trial version of their software that covers the first chapter of their course and includes text, video lectures, and practice questions.
What is Fast Forward Academy's exam pass rate?
Fast Forward Academy doesn't share information regarding their pass rates because they believe this to be a deceptive business practice. Instead, they offer several testimonials left by satisfied students.
How can I contact Fast Forward Academy support if I have a problem?
There are several ways in which to contact this course's support team that can be found on their contact page. In addition to a toll-free phone number and an email form, they can be reached through social media on Twitter, Facebook, and Instagram.
---
My Suggestion
Fast Forward Academy's offers a low price and flexible study schedule that is sure to be enticing to a particular kind of student. Their course contains enough practice questions, written material, and video content to justify its reasonable asking price. Because of these facts, their CPA prep course is a sound investment for interested students. If you're still not sure, however, here's a quick guide to help you determine whether or not it's the right course for you:

If you're a student who is self-motivated and will study independently, this is the course for you.

If you're a student who likes to take their time and doesn't want to feel rushed, this is the course for you.

If you're a student who uses up-to-date devices such as a modern computer, smartphone, or tablet, then this is the course for you.

If you're a student who learns best in a classroom setting with a live instructor, this is NOT the course for you.

If you're a student who uses legacy computers or smart devices that are more than 5 years old, this is NOT the course for you.
Hopefully, these bullet points were informative and helpful enough to enable you to make an informed decision. Although there are a few things holding this course back from being perfect, it's still an excellent choice for students looking to beat the CPA exam!
Best Fast Forward Academy Coupon Codes & Discounts