Wiley CPAexcel and Becker CPA Review are some of the most popular CPA review courses used by test takers. But you're probably wondering: what's the difference between the two? And which one is better for test prep?
Let's compare and contrast Wiley CPAexcel and Becker CPA Review's textbooks, software, practice tests, and other important features. This way, you can pick the course that best fits your learning style!
Wiley CPAexcel vs Becker Course Formats
Becker has 3 different course formats for you to choose from: Advantage, Premium, and Pro. Currently, they're the only CPA review company that provides a live classroom course.
Wiley CPAexcel is offered in an online, self-study, and virtual classroom format. You're given a USB flash drive with each course so you can have access to all its materials offline as well as DVD's of the video lectures. Wiley's virtual classes are a blend of pre-recorded lectures and live instruction.
Although Wiley's offerings are decent, there's simply no beating the option of a live classroom environment.
Winner: Becker CPA Review
Wiley CPA vs Becker Cost Comparison
Becker is a pricey course, costing $3,499 for the top course and all the features. Alternatively, Wiley CPAexcel is a whole lot cheaper. For the Wiley Platinum Course, you will be paying $2,800. Furthermore, an even more affordable option is Wiley's Silver Course for $1,590. I will reference the Platinum Course in the pricing chart below since it is the one most similar to Becker and is also endorsed by the Big 4 accounting firms; not to mention the Platinum course is the most popular. You can also find amazing deals on the various Wiley CPAexcel course levels on our discounts page.
| | | |
| --- | --- | --- |
| CPA Review Cost Comparison | Wiley CPAexcel | Becker CPA Review |
| Full-Course Price | $2,800 | $3,499 |
| Single Section Price | $800 | $799 |
| Admin Fees | None | $95 |
| Cost to Repeat the Course | Free | Free (With Becker Promise) |
Winner: Wiley CPAexcel
Wiley vs. Becker CPA Books
The Becker books are comprehensive and filled with more than enough information you will need to pass the CPA exam. The content is organized and structured, but you might find it difficult to get through the dry material. The reading sections in Becker are also longer than Wiley's. Consequently, it can be harder to fit quick study sessions into your busy schedule.

Wiley has plain looking books that don't distract you with fancy formatting and images. There is also more space to take notes in the margins and in between paragraphs. Wiley's books were a much more useful experience, although Becker still provides a terrific alternative.
Winner: Wiley CPAexcel
Wiley vs Becker CPA Exam Practice Questions
Wiley CPAexcel's course includes an impressive combination of TBSs (Task-Based Simulations), MCQs (Multiple-Choice Questions), and "true or false" questions. The total number of all these practice questions combined is nearly 19,000. Hence, Wiley provides a seriously dense collection of material that should last you several months of hardcore studying.
Becker, on the other hand, has only 7,200 multiple choice questions and 400 task based simulations. Therefore, Wiley wins over Becker when it comes to practice questions.
Winner: Wiley CPAexcel
Wiley  CPA vs. Becker Flashcards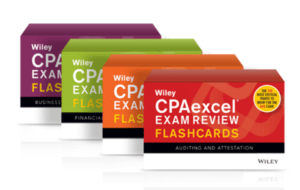 If you go with Becker, you used to have to pay extra for their flashcards. However, their most recent update added both digital and physical flashcards to all their course packages, including their cheapest Advantage tier. The digital flashcards are accessible on iOS (Apple), Kindle, and Android mobile devices.
Wiley CPAexcel also provides over 4,000 flashcards free, so you don't have to pay extra. Each section in their software comes equipped with flashcards that directly relate to core concepts and definitions covered in each section. You can buy 1,000 printed flashcards for $150 if you prefer them to be tangible.
It's a tough decision, but Wiley takes the win due to sheer volume!
Winner: Wiley CPAexcel
Course Expiration and Access
Becker has recently updated their CPA exam prep course to offer Premium and Pro subscribed students unlimited access. This means that there are no longer any time restrictions, which can be helpful for students who find themselves failing a section of the exam. In a similar vein, Wiley CPAexcel also never expires and you never have to pay to renew your access or update your materials. Furthermore, you can take unlimited course repeats and have access to their online material for an entire year AFTER you pass the CPA exam.
Winner: Tie
Software and Content Updates
Although this wasn't the case in the past, Becker now offers all course updates for free regardless of what package students are subscribed to. Each time the material covered on the CPA exam changes, you won't have to pay extra for the most relevant course.
Wiley CPAexcel lets students receive all updates for free as well, whether they pertain to software changes or material changes. Therefore, you will always have access to the up-to-date video lectures online for free. They also provide students with the ability to watch these materials on a physical medium with a paltry $8 cost to receive a DVD copy. This is the same cost for a CD copy of their offline study materials.
Winner: Tie
My Suggestion
It's not easy for me to pick which course wins when comparing the two's features. Wiley is a fantastic course in my opinion, but it's your study process! It's much more important to pick a CPA review course that compliments your learning style, and Becker is certainly still among the cream of the crop. So go check out the free demos for Wiley and Becker to find out for yourself!