Wiley CPAexcel and Becker CPA Review are some of the most popular CPA review courses used by test takers. You are probably wondering what the differences are between the two and which one is ultimately better.
In this review I will compare and contrast Wiley CPAexcel and Becker CPA Review's textbooks, software, practice tests, and other important features to help you pick a course that fits your learning style.
Wiley CPAexcel vs Becker Course Formats
Becker has 3 different course formats for you to choose from: online, self-study, and live classes. Even though Becker is the only CPA review company that provides a live classroom course, many students say that the quality of their instructors is lacking and honestly not worth your time.
Wiley CPAexcel is offered in an online, self-study, and virtual classroom format. You are given a USB flashdrive with each course so you can have access to all its materials offline as well as DVD's of the video lectures. Wiley's virtual classes are a blend of pre-recorded lectures and live instruction. This is a relatively new feature, so if you have any feedback about the quality of these classes please let everyone know in the comment box below!
Winner: Wiley CPAexcel
Wiley CPA vs Becker Cost Comparison
Becker is the most expensive course on the market at $3,393 for all 4 sections. Wiley CPAexcel is a whole thousand dollars cheaper for its Platinum Course, costing you $2,295. An even more affordable option is Wiley's Silver Course for $1,590. I will reference the Platinum Course in the pricing chart below since it is the one most similar to Becker and is also endorsed by the Big 4 accounting firms; not to mention the Platinum course is the most popular. You can also find amazing deals on the various Wiley CPAexcel course levels on our discounts page.
| | | |
| --- | --- | --- |
| CPA Review Cost Comparison | Wiley CPAexcel | Becker CPA Review |
| Full-Course Price | $2,800 | $3,393 |
| Single Section Price | $800 | $1,131 |
| Admin Fees | None | $95 |
| Cost to Repeat the Course | Free | $565 Per Section |
Winner: Wiley CPAexcel
Wiley vs. Becker CPA Books
The Becker books are overly fanciful with too much focus on colored diagrams and images. The content is organized and structured but you'll find it difficult to get through the dry material. The sections in Becker are way longer than Wiley's, making it harder to fit quick study sessions into your busy schedule.
Wiley has plain looking books that don't distract you with fancy formatting and images. There is also more space to take notes in the margins and in between paragraphs. Wiley's books were a much more useful experience.
Winner: Wiley CPAexcel
Wiley vs Becker CPA Exam Practice Questions
Wiley CPAexcel's course includes 12,000 multiple choice questions, 600 task based simulations, and 6,200 true/false questions. The true/false questions are referred to as "proficiency questions" and are used to gauge your understanding of a certain section.
Becker, on the other hand, has only 7,200 multiple choice questions and 400 task based simulations, many of which are no longer relevant. Clearly, Wiley crushes Becker when it comes to practice questions, which are arguably the most important part of your CPA preparations.  
Winner: Wiley CPAexcel
Wiley  CPA vs. Becker Flashcards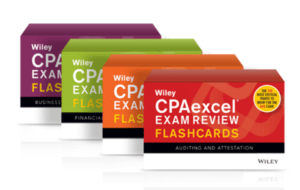 Becker's flashcards are overpriced, in my opinion. For $299 you receive 1,000 Becker flashcards in either a mobile or printed format. The mobile flashcards are accessible on iOS (Apple), Kindle, and Android mobile devices.
Wiley CPAexcel already comes with 4,100 digital flashcards, so you don't have to pay extra for a substantial amount of flashcards. Each section in their software comes equipped with flashcards relevant to the most important definitions and terms covered.  You can buy 1,000 printed flashcards for $150 if you prefer them to be tangible.
*Study Tip: Don't BUY flashcards, MAKE them! You will retain much more information by physically creating them by yourself.
Winner: Wiley CPAexcel
Course Expiration and Access
The Becker software expires after 18 months. This can end up costing you a lot of money if you need more study time or end up failing a section of the exam. You will have to pay 50% of the original course cost to renew your access. And that's a pretty decent amount since this course is so expensive to begin with.
Your access to Wiley CPAexcel never expires and you never have to pay to renew your access or update your materials. Plus, you can take unlimited course repeats and have access to their online material for an entire year AFTER you pass the CPA exam.
Winner: Wiley CPAexcel
Software and Content Updates
To no surprise, Becker does not update their practice exams, simulations, or video lectures for free. Each time the material covered on the CPA exam changes, you will have to pay extra for the most relevant course.
Wiley CPAexcel comes with free software and content updates. You will always have access to the up-to-date video lectures online for free, or if you prefer to watch them via DVD, they will ship you the new one for only $8. If you like to study off-line, the updated CD-rom software only costs $8 as well.
Winner: Wiley CPAexcel
My Suggestion
It's pretty obvious which course wins when comparing the two's features. Wiley is far superior in my opinion, but it's your study process! It's much more important to pick a CPA review course that compliments your learning style. So go check out the free demos for Wiley and Becker to find out for yourself which course fits better with how you prefer to learn.
Wiley CPA vs Becker CPA Review
Written by:
Jessica Davis