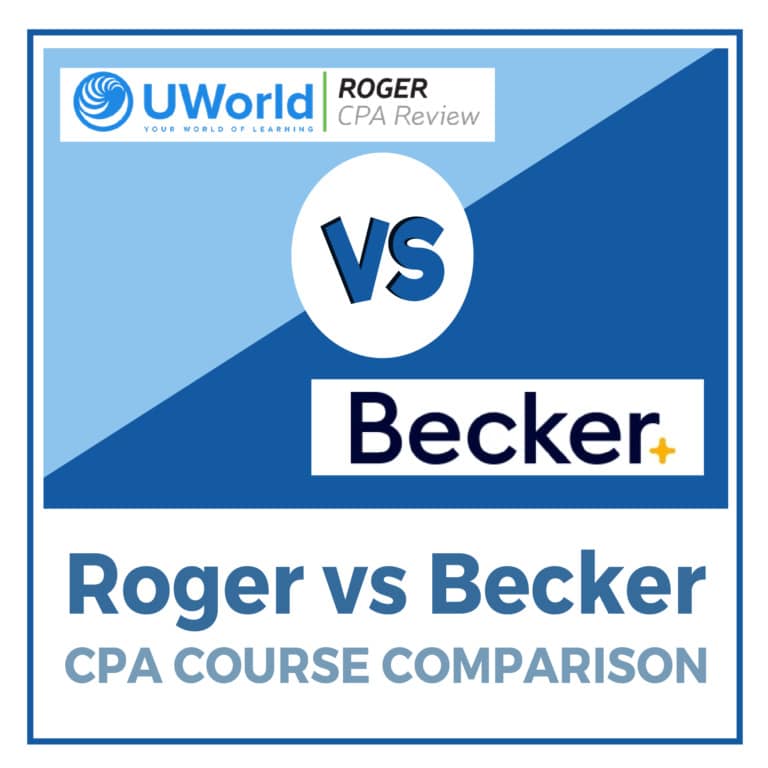 The first and most important step to becoming a public accountant is passing the CPA exam. This certification will ensure your recognition as an experienced professional.
But just like most things worth doing, passing the CPA exam is not an easy task. You'll need to be prepared for the content well ahead of time if you want to succeed on your first try.
And the best way to gain that knowledge is to work through an effective CPA review course.
Many online CPA review courses claim to be the best around. However, there are a few that are decidedly better than the competition.
Both Becker and UWorld Roger CPA Review have excellent courses, but which one is better? Read on to compare the advantages these courses have against each other and see our final ranking!
---
Becker vs. UWorld Roger CPA Review: Price
Even if a course has excellent content, a bad price can make all of that worthless. Everyone wants to take a course they can afford, which is why it's so important to find the perfect price point.
Becker offers their content across three different course packages: Advantage, Premium, and Pro. These can be on the pricey side at over $2000, but they frequently put these courses on sale. Plus, you can pay monthly with Affirm if you're not comfortable spending a large amount outright.
UWorld Roger follows a similar mindset with their pricing— they frequently put their packages on sale and offer monthly financing. However, their base price is much lower than Becker's. Their Individual, Premier, and Elite courses have a base cost of $649, $1899, and $2999 respectively. It's tough to beat prices like that.
Winner: UWorld Roger CPA Review

UWorld Roger easily wins in this category. With a nearly identical pricing structure and consistency for sales, they offer a more affordable catalog of accounting review courses.
---
Becker vs. UWorld Roger: Free Content
Free trials are an excellent way to see a quick overview of how a course works. Because of that, you can see how confident a company is in their materials based on how much is included in their free content.
Both UWorld Roger and Becker take a similar approach to their trials, with a few small differences.
Becker's free trial is essentially a two week version of their course. It includes content from all the different parts of their course curriculum. Feel free to browse their multiple choice questions, video lectures, and a set of task-based simulations. You even gain access to some of their bonus materials like flashcards. And if you decide to take the course after the trial, your progress carries over; you won't have to repeat the content you already know.
On the other hand, UWorld Roger only gives you a week-long free trial. To be fair, their trial is also the first week of the course— and if you choose to continue after, you'll keep your course progress. However, they don't sweeten the deal with extra content like Becker does.
Winner: Becker CPA Review
Becker easily wins in this category. As nice as UWorld Roger's trial is, it just can't match up to the full course overview that Becker is offering. Plus it's a week shorter than the competition. If UWorld Roger adds some extra content to their trial then they could match up, but it's currently no comparison.
---
Becker vs. UWorld Roger: CPA Practice Exams
Practice exams are the most important aspect of preparing for the CPA exam. These are essentially dry runs for the real thing; they let you get comfortable with the exam's content and format. Because of that, they're usually the most developed part of any prep course.
Becker's practice exams have been designed to mimic the actual CPA exam almost perfectly. There's one small difference in the way they grade their mock exams compared to the actual CPA exam, but this is actually one of their most appealing features among accounting students. Thanks to this minor grading difference, many students experience the "Becker Bump" when comparing their mock exam scores to their actual test grade!
Unfortunately, UWorld Roger's exams don't quite match up against Becker.
UWorld Roger offers an unlimited amount of practice tests. However, these are randomly generated from a large test bank of 6,000 multiple choice questions. 
As a result, these exams are good for studying new information, but just aren't good enough at teaching you the test format. Ultimately, they lack the hand crafted touch that Becker brings to the table.
Winner: Becker CPA Review


UWorld Roger can't quite meet Becker's standards in this category. Their quantity of content is nice, but Becker easily trumps them in their quality of testing and the Becker Bump.
---
Becker vs. UWorld Roger: Video Lectures
Aside from practice, another important aspect of CPA exam prep is watching lectures. A well-made video lecture will help students truly understand the concepts behind all of the exam questions— but who does it better?
Video lectures are one of the best parts of UWorld Roger CPA Review. The course's lead instructor and namesake, Roger Philipp, is an extremely charismatic and knowledgeable teacher. His lectures are one-of-a-kind and are excellent at keeping you motivated while studying. 
Check out one of his webcasts below and see for yourself:
In comparison, Becker's video lectures aren't quite as impressive. They certainly offer educational value and are taught by qualified instructors— but you won't have nearly as much fun watching them!
Winner: UWorld Roger CPA Review

If you're only interested in the CPA review course with the best lecture content, go for UWorld. Although they don't always stand toe-to-toe with Becker, this is one category where they far outshine the competition.
---
Becker vs. UWorld Roger: Additional CPA Study Materials
Additional study materials are a nice bonus for any course. Even though they aren't fully necessary for passing, they're still an excellent tool for brushing up on prior knowledge. Plus, they're great for studying on the go. But which of these two CPA review courses have a better selection of extra study content?
Becker's main course offers a wide range of study materials, including flashcards, study guides, and textbooks. Additionally, many of these allow you to take some of your learning offline— which can be extremely helpful if you're not interested in spending your entire study time glued to a screen. However, they also offer several supplementary products outside of their main course: extra flashcards, multiple-choice question banks for specific exam sections, and guided simulations.
UWorld Roger's main course matches up nicely against Becker in this category. They also offer textbooks and study guides, as well as some of the best digital flashcards for improving your memory. However, they don't offer anything like Becker's robust catalog of supplementary materials, which can be disappointing. Fortunately, their website has lots of helpful free resources to explain the structure and format of the CPA exam.
Winner: Becker CPA Review
If you're looking for a little extra help in order to pass the CPA exam, you'll want to check out Becker's options. Even students who are enrolled in UWorld Roger's full CPA exam review course can appreciate the knowledge gained from one of Becker's supplementary exam simulations or flashcards.
---
Final Recommendation
It's a close call, but Becker is the superior option. They've got far more effective tests and a wider range of course content. Plus, they do a better job of emulating the CPA exam format. And while UWorld Roger may offer better video content and more affordable prices, there are many tradeoffs that make it a difficult pick over Becker (not to mention Becker's generous discount codes). 
For all of these reasons, we recommend Becker as your best bet if you want to pass the CPA exam on your first try. try out Becker today!