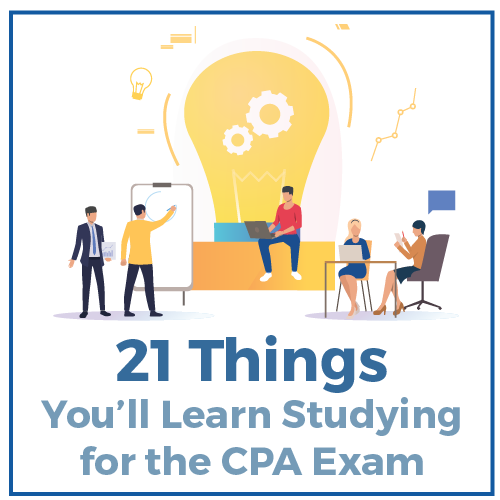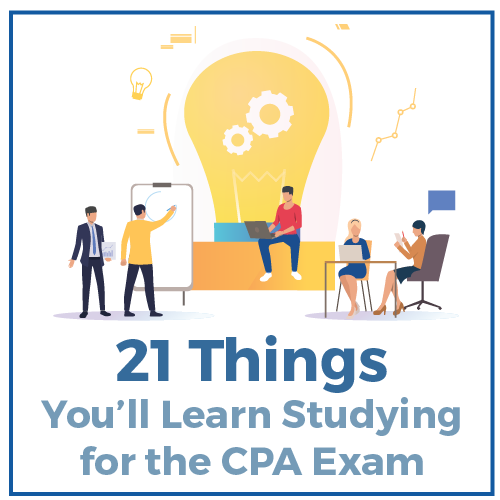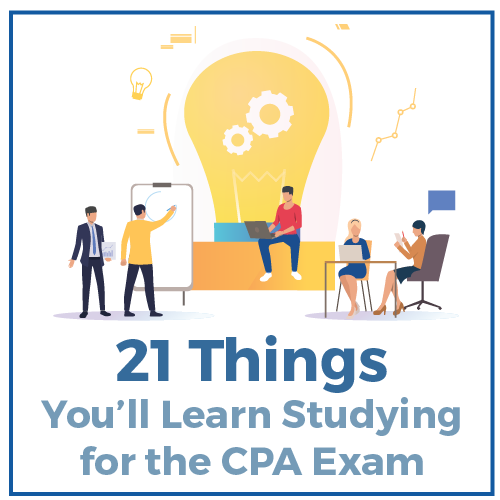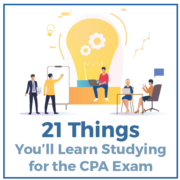 When I first started studying for the CPA exams, I had no idea what I was getting myself into. I found it really surprising how much you learn while studying for the CPA exam. Not even just what you're learning from textbooks but what you learn about yourself at the same time.
---
---
Here are 21 things that I learned while doing my exam review that you'll most likely find out for yourself:
The exams are hard. Like all-consuming, exhausting in every imaginable way, on the verge of insanity, eye-crossing hard. These exams are a true test of your mental capacity.
There is no perfect time to start studying. Just pick up a study guide and get started already!
Don't pay for all the exam sections at once. Just to be on the safe side, pay for a couple at a time. It's a real possibility that you could end up postponing and run out of time to take those paid exams. You lose that money and have to pay again!  While you're at it, save money on your CPA courses with our discounts.  Your wallet will thank you.
Life will not stop just because you're busy studying. For most people, life will actually throw you a few more curve balls than normal during your CPA exam study.

---

Learn More About The CPA Exam

---

The threat of failure is real. It doesn't matter how good of a crammer or how great of a test-taker you were in college. We're not in college anymore.
The key is practice, practice, practice. Don't bother rereading chapters you've already read, just keep doing practice questions!
Live classes are worthless. Thanks for the lessons on highlighting entire pages though.
Coffee is your best friend. So is a beer right after a stressful day at work. Don't fight it.
You'll be an expert on the best coffee shops for studying. You'll become that regular known as the "girl with the fat books" with your cappuccino already waiting for you.
You'll develop a Vitamin D deficiency. What does daylight look like again?
Getting into your Prometric exam room is way more thorough and annoying than getting through security at the airport. And your every move is being watched…
Those bright yellow sound-blocking earphones in the exam rooms are a blessing. Those prometric keyboards have the loudest keys ever. It's just a fact that there will be someone right next to you pounding on those old keyboards.
You'll get annoying encouragements like "you'll be ok" or "you can do it" or "you'll get it next time" or "just study harder". Excuse me, but have you taken these exams? People who haven't taken the CPA exams have no clue what you're going through.
Don't tell anyone which day the results are posted. If they don't know if you passed, then you probably didn't. If you passed, everyone and their mama would know already.

---

Get Discounts On CPA Review Courses!

---

You'll get really good at saying "no". You won't even have to make excuses, it's just a flat out NO. Don't bother me, I've got a date with my textbooks.
Everyone you know will question if you're dead or alive. When you finally decide to take a break from your study materials and come out into the world, it's like that rare Snow Leopard sighting (crikey, mate!). And not to mention, you'll be the hardest person to get ahold of. They may as well just send a carrier pigeon.
You'll be out of the loop on all sports and every popular TV show. It's really ok though. Life is so much better without TV. Wouldn't you rather be out with friends or family rather than melting your brain with mindless shows? Or better yet, curling up by the fire with a nice prep course on financial accounting?
Negative people who bring you down should be cut out of your life. If they add no value or don't see that you're doing good things with your life, why keep them in it? The keepers will see that these sacrifices are temporary and will support your every step in the process.
You'll find this crazy inner drive that you never knew you had in you. There will be something that keeps your self-study going during all the struggles and pushes you to your limits. For me, it was imagining the day when it was all over and I could finally have my life back. But you'll find your own motivation.
You may develop some post exam anxiety right before your last exam. The thought of getting back to a life where you don't have to study seems unimaginable. What are you supposed to do with free time again?
An occasional meltdown is inevitable. Take a minute to throw yourself a little pity party. But then get over it! You're wasting precious study time.

Check Out the Top CPA Review Courses Today

[uam_ad id="7978″]

Do you have some things that you learned while studying for the CPA exams? Please, feel free to share them below in the comments!