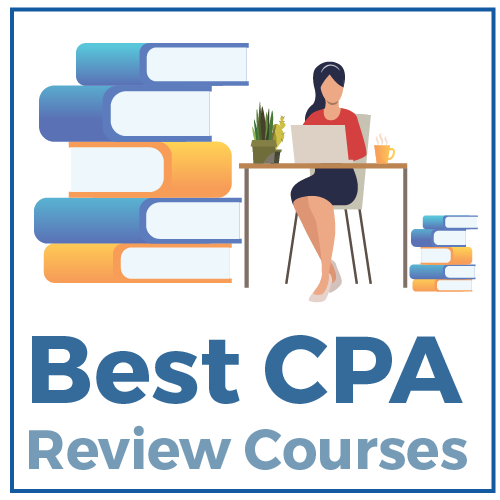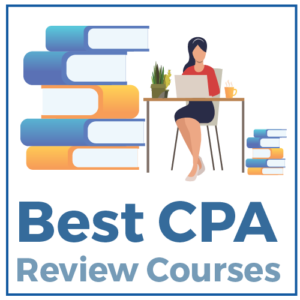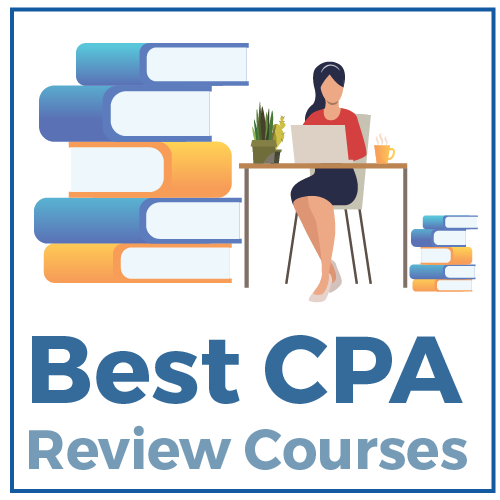 The best CPA classes are essential to your success and could be the difference between passing and failing your exams. Furthermore, there's no one-size-fits-all course, so it's important that you choose the one that best fits your own learning style and preferences.
Accordingly, these CPA study materials will be your best friend and constant companion for the next 6 to 18 months, so your choice had better be on point.
Lucky for you, I've accessed and personally tried each of the top Certified Public Accountant (CPA) review courses below to save you the effort!
The chart below shows what each of the top 7 courses provides (or doesn't provide) and explains what I found most important in making this critical decision.
---
---

---
1. Becker CPA Review Course
Becker CPA Review Pros & Cons
Why Becker? Becker's name alone will greatly enhance your legitimacy when applying for jobs at large accounting firms. They've earned this reputation for offering the best CPA study resources on the market; you can't go wrong!
Becker CPA Review Discounts & Promo Codes
---
Not the discount you were hoping for? Check out more Becker discount codes here.
---
---
3 Wiley CPA Review Course
Wiley CPA Prep Pros & Cons
Why Wiley CPAExcel? Signing up for Wiley CPAexcel is like hiring a personal exam trainer that you can take with you anywhere you go. For that reason, we highly recommend it to any aspiring CPA who has a busy schedule!
Wiley CPA Review Discounts & Promo Codes
---
#4 UWorld Roger CPA Review Course
UWorld Roger CPA Pros & Cons
Why UWorld Roger? If you're interested in exciting video lectures and other engaging materials, UWorld Roger CPA Review has the tools you need!
UWorld Roger CPA Discounts & Promo Codes
---
#5 Gleim CPA Review Course
Gleim CPA Pros & Cons
Why Gleim? If you've been out of school for a number of years and want access to a personal counselor throughout your studies, Gleim is the right fit for you.
Gleim CPA Review Discounts & Promo Codes
---
#6 Fast Forward Academy CPA Review Course
FastForward Academy CPA Pros & Cons
Why FFA? Fast Forward Academy is still a new course with a lot to prove. Therefore, I would recommend this for you if you are on a strict budget.
Fast Forward Academy CPA Review Discounts & Promo Codes
---
#7 Yaeger CPA Review Course
Yaeger CPA Pros & Cons
Why Yaeger? Yaeger is a good fit for you if you want a comprehensive course that gives you more than enough information to successfully pass the CPA Exam.
Yaeger CPA Discounts & Promo Codes
---
#8 Lambers CPA Review Course
Lambers CPA Pros & Cons
Why Lambers CPA Review? If you're already enrolled in a different prep course and need some extra help, Lambers is a fantastic supplemental study aid. They're particularly good for improving your score in one specific exam section.
---
Best CPA Study Materials
While the CPA study materials listed above are really good, sometimes the course that is right for you is missing a couple helpful features that can enhance your studies. Don't stress. There are a variety of different supplemental CPA study materials you can use to add on to your CPA exam study material to make sure it has everything you need to pass. Some popular CPA exam supplementals are mobile apps, test banks, flashcards, and cram courses.
How We Find the Best CPA Review Course
Our methods for choosing the best prep courses vary. Many times it's easy to decide via objective means— such as pass rates or number of materials on offer. But in other cases we need to take a more nuanced look at things.
For instance, we place a lot of emphasis on more subjective options: how engaging a course is, how popular their teaching styles are among students, and whether the materials work well within the course format.
Of course, every course on this list has been thoroughly researched and tested by our writers, which gives us personal experience with each one. Thanks to that, it's easier for us to make value judgments when ranking each course on the list.
How We Evaluate Course Sections
Most of this comes down to personal experience. Each section of the course is evaluated based on how effective it was at teaching. Additionally, it's important that we keep multiple learning styles in mind during evaluations. Certain sections may be more effective for visual or auditory learners compared to text based learners.
Anything that can appeal to multiple learning styles at the same time gets extra attention due to its general accessibility. Those CPA exam review courses are especially valuable because you don't need to worry if you fit the right mold to complete the materials. Instead, you can rest assured that you're covered no matter what learning style you prefer.
Let's walk through all of these and look at why you may consider enrolling in a specific prep course. Remember that buying supplemental products from a different company besides your main CPA exam review course can be beneficial; It gives you a different study method and a variety of the best CPA study materials.
Which Is The Best CPA Review Course for Video Lectures?
CPA video lectures are ideal for those that prefer to learn by watching a teacher go over the important accounting concepts. Since many students prefer this style of learning, video lectures are one of the most important parts of any CPA review course.
UWorld Roger CPA Review has some of the best video materials in the industry with his engaging lectures. Another great course for video lectures would be Surgent CPA Review and its knowledgeable instructors.
Bottom Line: Since Roger is the most engaging instructor in the industry, UWorld Roger CPA Review is the best review course for video lectures.
Which CPA Review Course has the most Multiple Choice Questions ?
Multiple choice questions are the core of any CPA review course, as these mirror the exam content and are the best way to practice for the test. The number of MCQs isn't always the most important metric for these questions. You must also note that some questions are harder and more like the actual exam than others. Becker CPA review has a ton of great questions, but Gleim has the highest volume by far.
Bottom Line: Gleim CPA Review provides more multiple choice questions than any course, so you're not going to run out of practice questions.
Which CPA Review Course has the Best Task-Based Simulations (TBS)?
Task-based simulations are increasingly important because of the changes made to the CPA Exam in 2017. Because of this new test that places more importance of simulations, CPA exam review courses now place more emphasis on these questions, ensuring you can pass after practicing the TBS section. Once again, Becker and Gleim are the best courses for TBSs that have included up to date TBS materials and have optimized these sections for the new CPA exam blueprints.
Bottom Line: While Becker CPA review has extremely up-to-date materials with tons of accompanying video content, Gleim CPA Review has the most task based simulations for your CPA exam practice.
CPA Study Material Discounts & Financing Options Compared
Why pay full price for a CPA review course when there are plenty of great CPA discount codes that are available! Take hundreds of dollars off Surgent CPA Review or another course with these great CPA course promo codes. If you can't pay for a pricey CPA course, check out the financing options from Surgent and Roger CPA Review.
Bottom Line: Surgent CPA Review offers the best financing options, with 0% and a low monthly rate thanks to an affordable price point.
Additional Resources to Get You On the Right Track
Not sure which review course is right for you? Don't worry, I've got your back! Check out my side by side comparison of Wiley CPAexcel vs. Becker. You can also learn more about other accounting certifications including EA Review Courses and CIA Study Materials. If you have any specific CPA questions, just drop a comment below and I'll personally help find the right course for you!
CPA Requirements by State Summary
Picking the right course is important to help you pass the CPA exam, but you still need to understand your state-specific requirements for the certification. Each state asks you to complete an education and work experience requirement before you can sit for the exam. Plus, you may need to complete an ethics exam or be a certain age before you qualify.
All of that is why it's so important to understand each state's CPA exam requirements. To help you out, I've created a resource you can use to easily check if you qualify for the CPA exam in your state. It lists all the major requirements for each state and is a great checklist when preparing for the exam.
Bear in mind that this is a general overview. You'll want to check your state's CPA board for a more specific breakdown of what's required when preparing for the exam. Should you do so, it'll be easy to meet the requirements and schedule an exam.