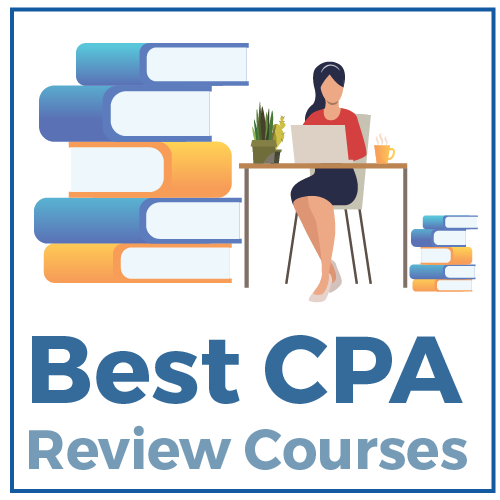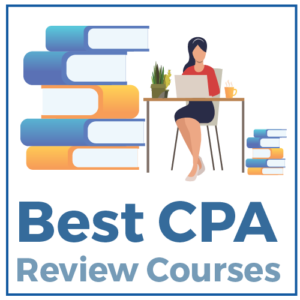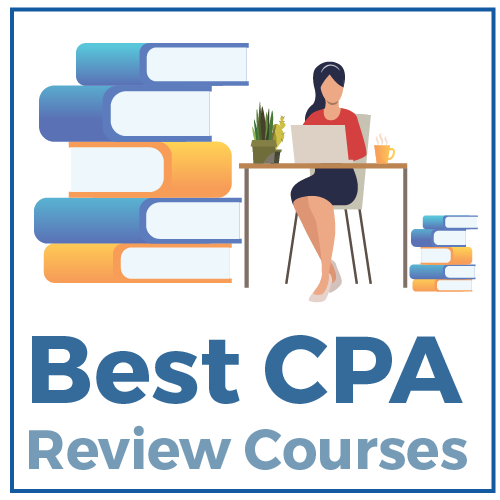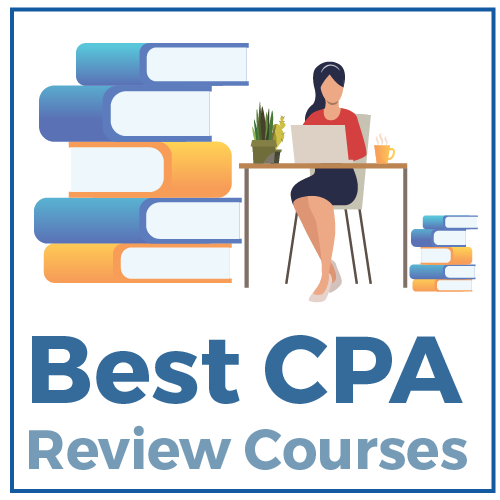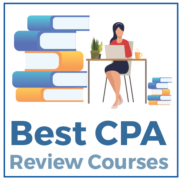 The best CPA classes are essential to your success and could be the difference between passing and failing your exams. Furthermore, there's no one-size-fits-all course, so it's important that you choose the one that best fits your own learning style and preferences.
Accordingly, these CPA study materials will be your best friend and constant companion for the next 6 to 18 months, so your choice had better be on point.
Lucky for you, I've accessed and personally tried each of the top Certified Public Accountant (CPA) review courses below to save you the effort!
The chart below shows what each of the top courses provides (or doesn't provide) and explains what I found most important in making this critical decision.
The Best Review Courses To Pass The CPA Exam
---

---
1. Becker CPA Review Course

Becker CPA Prep Course Pros & Cons
A+ Reputation: Becker is the best of the best. How do we know? They're backed by the Big Four and hundreds of other companies. This is why so many industry leaders will pay for CPA candidates that work for them to enroll in Becker's programs.
AI Technology: Becker has partnered with Sana Labs to bring their students award-winning technology to enhance their Adapt2U exam technology. As you progress through the course, your abilities are gauged, and the AI gives you harder questions where you're really good and gives you more practice in areas you're struggling with. Item 2
Industry Leading Instructors: All instructors are experts in their field, they are also very engaging. Becker instructors like to use mnemonics that you'll never forget and include a little splash of humor to keep you listening. With a collective 60+ years of experience, you will always have support while studying for the CPA exam.
Unique Course Offerings:  Becker's newest offering, Concierge, gives you access to a dedicated team of experts and your own success coach. They'll also work with you to create a customized study plan that addresses your specific needs. Plus, you can receive up to 50 hours of one-on-one tutoring sessions every week, so you can get the help you need to succeed. From pre-license to CPA career start-up, your Becker team will be by your side.
Task-Based Simulation SkillMaster Videos: Becker is the only provider that offers instructor-led TBS videos. They have over 400+ SkillMaster videos that provide step-by-step instructions. Very important considering half the exam is Task-Based Simulations.
Flexible Format: Becker offers self-study, live-online classrooms, and live in-person classrooms. All these options ensure that you get the perfect experience for you.
Why Becker? Becker CPA is a renowned leader in the CPA review industry, known for its comprehensive content and adaptive learning technology. While it comes at a premium price, its track record of student success and extensive resources make it our top choice for serious CPA candidates.
Becker Promo Codes
---
Not the discount you were hoping for? Check out more Becker discount codes here.
How do you rate Becker CPA Review?
---
2. Surgent CPA Review Courses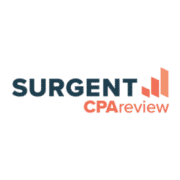 Surgent CPA Course Pros & Cons
Experienced Instructors: Surgent CPA Review instructors each have at least 15-20 years of experience teaching accounting and CPA Exam prep courses. This gives them more insight and useful strategies than the average teacher. Video lessons are very short and often average 10 minutes in length, which makes it easy to absorb lessons.
New Dashboard: Surgent has released updates for its course designed in a way that is both intuitive and nice to look at. This is one of the cleanest-looking courses on the market, and it's something that sets Surgent Review apart from other products.
Unlimited Course Access: With Surgent, you have complete access to course materials until you pass. This really defines Surgent from other CPA Exam course reviews as it removes the stress of worrying about extra fees if you fail to pass your test the first time.
Value: In terms of getting the most bang for your buck, it's hard to beat the Surgent CPA Review. With a new design and more streamlined access to content, you'd expect a price tag that's a little higher.
Free Flashcards: Surgent created a Free CPA Exam flashcard app that is available for both iOS and Android devices with a 5-star rating in both app stores. The app features 2,200 terms and definitions and is free whether you choose to buy the full course or not.
Video Content: Although Surgent provides video lectures covering CPA exam concepts, they have the weakest library out of all the companies on this list. You can get more content from Becker or a more engaging version of the same library with UWorld. That being said, the other materials included in this course more than make up for the somewhat disappointing videos.
Why Surgent? Surgent CPA stands out with its adaptive learning approach, quickly identifying your weak areas and optimizing study time. Its real-time performance tracking and high-quality materials make it a strong contender, especially for those on a tight study schedule.
Surgent CPA Review Discounts & Promo Codes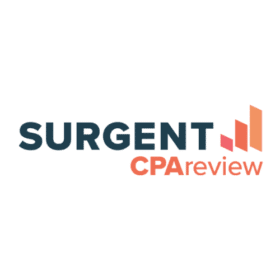 Take $740 Off Surgent CPA Ultimate Pass
40 uses today
Last Used: 56 minutes ago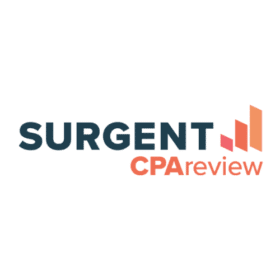 Take $1,000 Off Surgent CPA Ultimate Pass
41 uses today
Last Used: 51 minutes ago
---
3. Gleim CPA Review Course
Gleim CPA Classes Pros & Cons
Comprehensive Material: Gleim covers every topic that could appear on the exam and goes into great detail with the aid of their SmartAdapt technology. By studying every possible area in a guided fashion, you can be certain that there will be no surprises when you take the actual exam.
Number of Questions: Gleim provides students with over 10,000 multiple-choice questions and over 1,300 task-based simulations. Using Gleim as a supplement for FAR, I found that the questions were a lot more difficult than those on the actual exam. By mastering the difficult practice questions, I was more than prepared for the questions on my exam.
Great Support: Gleim CPA ensures a student-centric experience by providing dedicated guidance and resources. With a team of experts ready to assist, students benefit from tailored advice and responsive solutions. The commitment to updated content, interactive study materials, and real-time feedback empowers candidates to confidently navigate their CPA journey. Gleim's long-standing reputation in the industry testifies to its unwavering dedication to excellence and student success.
Audio Review: An audio review is provided with the purchase of the Gleim Review System package. It can be downloaded to multiple devices to facilitate studying on the go. I used an audio review while I studied and it helped me tremendously; it's logically structured in a way that explains relevant information.
Access Until You Pass: Gleim Online offers extended "Access Until You Pass" to all students. If you don't pass the CPA exam sections for which you have purchased Gleim Online, you will receive unlimited continued access to Gleim Online until you pass.
Redundant Curriculum: For some students, this aspect of Gleim is more of a positive than a negative. But if you're fresh out of school and already familiar with many basic accounting concepts, Gleim's focus on reiterating these lessons can feel redundant and a waste of your study time. Because of this, the best kind of student for Gleim's CPA review course is one who has been out of school for a while and could use a refresher course on the basics.
Why Gleim? Gleim CPA offers a detailed and rigorous study approach, with a vast bank of practice questions and simulations. While its interface might feel dated to some, its depth of content and focus on understanding concepts make it a reliable choice for dedicated students.
Gleim CPA Review Discounts & Promo Codes
Save $1,400 On Gleim CPA Premium Pro
40 uses today
Last Used: 55 minutes ago
---
4. Lambers CPA Review Course

Lambers CPA Study Material Pros & Cons
Piece by Piece: What if you only need help studying for a specific portion of the CPA exam? Most of the other CPA exam review courses on this list come with all the content in one package; Lambers is more flexible in their pricing by allowing you to purchase materials for one section at a reduced cost.
Updated Regularly: There's a terrific benefit to this prep course having online-only study materials— they're always kept up-to-date. Unlike CPA review courses that offer physical flashcards and textbooks, you don't have to worry about paying for outdated CPA prep content.
Drill Sergeant: Are you stuck on some CPA exam concepts or terms? If so, Lambers will identify your knowledge gaps with their adaptive learning technology. Once it does, you'll have access to customized content in order to drill these questions until you understand the correct answers.
Guarantee: Although Lambers offers a guarantee to candidates who sign up for their course, it has one important distinction you should know about. You can only qualify for a refund if you fail the exam twice— a good deal for repeat test takers, but a bad deal if you're taking it for the first time.
Limited Brand Recognition: Unlike some of the more established names in the CPA review industry, Lambers CPA doesn't have as widespread a reputation. This might make some students hesitant to invest in their materials without more extensive testimonials or proof of success.
Traditional Teaching Approach: Lambers CPA tends to lean towards a more conventional lecture format. In an era where interactive and adaptive learning is becoming the norm, some students might find Lambers' methods less engaging or outdated compared to other providers.
Why Lambers CPA Review? If you're already enrolled in a different prep course and need some extra help, Lambers is a fantastic supplemental study aid. They're particularly good for improving your score in one specific exam section.
---
5. Yaeger CPA Review Course

Yaeger CPA Pros & Cons
Teaching Approach: Yaeger's instructors will walk you through each topic in their video lectures step-by-step, while they reinforce your understanding of each concept by working through hundreds of multiple-choice questions and simulations right alongside you. Their goal is to make sure students understand concepts, as opposed to rote memorization.
Additional Study Help: Yeager provides the option of audio lectures, the CPA review quiz generator, CRAM courses, and mobile flashcards. I recommend Yaeger for those students who need a comprehensive course that provides in-depth explanations and multiple study options. Honestly, I don't think there's a student who couldn't benefit from all the choices Yaeger has to offer!
Limited Library: Although Yaeger can be an excellent budget pick for your CPA exam prep, the tradeoff is a smaller library of task-based simulations and multiple-choice questions. For some students, the diminished question bank should still be enough to prepare you for the test— however, you can get a lot more for not much more money if you choose Surgent or Becker instead.
Software Issues: Some users on platforms like Reddit have reported that Yaeger CPA's multiple-choice software is subpar, leading to potential disruptions in the study flow and affecting the overall user experience.
Traditional Lecture Format: Yaeger CPA's reliance on a more traditional lecture style might not resonate with all students, especially those accustomed to more interactive or modern teaching methods.
Limited Mobile Optimization: Unlike some competitors, Yaeger CPA's platform may not be fully optimized for mobile devices, potentially hindering study flexibility for students on the go.
Why Yaeger? While Yaeger provides a thorough CPA review course, some users have reported software issues and its traditional lecture format may not suit all learning styles. It's essential to weigh these factors before committing to Yaeger for your CPA preparation.
---
6. UWorld Roger CPA Course

UWorld Roger CPA Review Course Pros & Cons
Fun Video Lectures: The biggest selling point of this elite CPA exam review course is Roger himself. He's a truly dynamic and engaging teacher who makes you want to pay attention. Furthermore, his energy pulls you in and makes the material so much more interesting; it's clear that he has a passion for helping students pass the CPA exam.
High-Quality Material: UWorld Roger CPA Review's textbooks and practice questions are made in-house based on released AICPA questions. With the aid of SmartPath predictive technology, your study plan is optimized to keep you engaged and motivated. Additionally, UWorld's user interface is easy to use, allowing you to seamlessly switch between lectures, flashcards, and practice exams.
Memory Techniques: "The Roger Method" uses memory aids and mnemonics to help you retain information. Additionally, the digital flashcards use spaced repetition, which is a helpful way to memorize the contents of each one.
Study Hub: No matter what course package you choose, you'll be able to browse answers to over 17,000 questions asked by students in UWorld Roger's Study Hub. However, you'll only be able to ask a question yourself if you're enrolled in their Elite-Unlimited course.
Practice Questions: With UWorld, you have a decent collection of practice questions to work through that are great at preparing you for the questions encountered on the full CPA exam. However, all the other courses in our top spots offer larger question banks, so you may prefer a course like Becker or Wiley if that's specifically what you want in a course. Otherwise, there are several other features that make UWorld more than capable of helping you study!
Content Depth: Some users feel that Roger CPA does not delve as deeply into certain topics as they would like, which can leave them feeling less prepared for specific sections of the exam.
Teaching Style: Roger's energetic teaching style is known for being engaging and enthusiastic. However, this style might not resonate with everyone, especially those who prefer a more subdued or traditional teaching approach.
Practice Question Variability: While the course has many practice questions, some users have mentioned that there might not be enough variability in the types of questions, potentially leaving gaps in preparation.
Why UWorld Roger? Roger UWorld CPA combines engaging lectures with a user-friendly platform, making study sessions both informative and enjoyable. Known for its energetic teaching style and high-quality questions, it's ideal for students who prefer a more dynamic learning experience. However, the cons of this program put it lower on our list.
UWorld Roger CPA Discounts & Promo Codes
---
7. Wiley CPA Review Course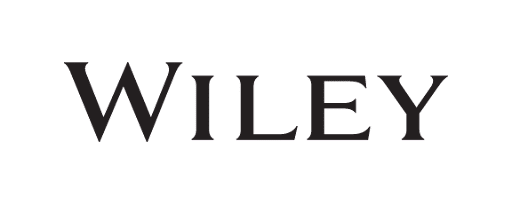 Recent Acquisition Concerns: In light of Wiley's acquisition by UWorld, there's growing uncertainty about the future trajectory of their CPA prep material. This transition might result in changes to the curriculum or platform, raising concerns about the course's consistency and quality. Given these uncertainties, we recommend considering Becker as a more established and reliable alternative for CPA preparation.
Wiley CPA Prep Pros & Cons
Score Prediction: It's a lot less stressful to take an exam if you already know what your score is going to be— which is why Wiley includes a Score Predictor with their online CPA review courses. This technology studies your results as you work through the material to create estimated scores for each exam section, which can help you track your progress and stay motivated.
Review and Recommend: Speaking of progress tracking and motivation, Wiley takes things one step further with FocusMeTechnology. This adaptive learning feature creates 10 to 30-minute study sessions that are specifically designed to target subject matter you don't fully understand. The predictive data models are powered by technology from one of the top players in educational tech.
Audio Lectures: With such a vast library of practice questions and task-based simulations, Wiley has one of the most impressive collections of CPA study materials found under one roof. Unfortunately, there's one thing missing— audio lectures. This kind of content is essential for a specific kind of student who needs to multitask while studying, so leaving it out of their collection may be cause for concern if you're one of those people.
Overwhelming Content Volume: While having a vast number of practice questions can be seen as a strength, it can also be overwhelming for some students. The sheer volume of nearly 19,000 questions might make it challenging for candidates to gauge their progress or determine which areas need more focus, potentially leading to inefficient study sessions.
Platform Transition Issues: Following Wiley's recent acquisition by UWorld, there's potential for disruptions or changes in the platform's interface, user experience, or content delivery. This transition phase might pose challenges for students who are accustomed to the original Wiley CPA platform.
Bottom Line: Despite Wiley CPA's historically robust offerings, the recent acquisition by UWorld casts a shadow of uncertainty over its future direction. Coupled with potential platform transition issues and an overwhelming volume of content, it's advisable for prospective students to exercise caution and consider other established CPA preparation options.
Wiley CPA Review Discounts & Promo Codes
---
Quiz: Which CPA Course Is Right For You?
Answer these few short questions so we can pair you with the best fit CPA course.

Best CPA Study Materials
While the CPA study materials listed above are really good, sometimes the course that is right for you is missing a couple of helpful features that can enhance your studies. Don't stress. There are a variety of different supplemental CPA study materials you can use to add to your CPA exam study material to make sure it has everything you need to pass. Some popular CPA exam supplementals are mobile apps, test banks, flashcards, and cram courses.
How We Researched the Best CPA Review Courses
Here are some of the factors we consider when choosing a CPA review course:
Price: CPA review courses can range in price from around $1,000 to $6,000, with most falling somewhere in the middle.
Features: Some review courses offer a wider range of features than others, such as adaptive learning technology, mobile apps, and practice exams.
Reputation: Check the reputation of the review course before you enroll. Read reviews from students who have taken the course and see what they thought of it.
Testimonials: Read testimonials from CPAs who have passed the exam after using the review course.
Money-back guarantee: Many review courses offer a money-back guarantee if you are not satisfied with the course.
Of course, every course on this list has been thoroughly researched and tested by our writers, which gives us a personal experience with each one. Thanks to that, it's easier for us to make value judgments when ranking each course on the list.
How We Evaluate Course Sections
Most of this comes down to personal experience. Each section of the course is evaluated based on how effective it was at teaching. Additionally, it's important that we keep multiple learning styles in mind during evaluations. Certain sections may be more effective for visual or auditory learners compared to text based learners.
Anything that can appeal to multiple learning styles at the same time gets extra attention due to its general accessibility. Those CPA exam review courses are especially valuable because you don't need to worry if you fit the right mold to complete the materials. Instead, you can rest assured that you're covered no matter what learning style you prefer.
Let's walk through all of these and look at why you may consider enrolling in a specific prep course. Remember that buying supplemental products from a different company besides your main CPA exam review course can be beneficial; It gives you a different study method and a variety of the best CPA study materials.
Which CPA Review Course Has The Best Test Banks?
Studying for the CPA exam is made easier thanks to numerous practice questions. The best source for these helpful study tools is supplemental CPA test banks. Below are some of the best options available to those who are getting ready to sit for the exam.
Wiley CPA Test Bank
One of the most popular supplemental products in the CPA exam industry, the Wiley Test Bank includes 4,500+ CPA Exam practice questions with detailed answer rationales and 160 task-based simulations, including new Document Review Simulations (DRS).
With more than 10,000 exam-emulating multiple-choice questions and simulations of the largest test bank on the market, Gleim tests your knowledge and skills at the levels of the CPA Exam to ensure that you're completely prepared.
Which CPA Review Course Has The Best Exam Cram Courses?
Whether you need to improve your CPA Exam score by 10 points or you simply want to solidify difficult concepts for final review, a solid Cram Course is the best study supplement to get you there. A CPA exam cram course is the best way to reinforce your understanding of the most heavily tested test topics in a short amount of time.
Lambers CPA Review
Although they're not technically a cram course, Lambers CPA Review is set up in the perfect way for use in your final review. By enrolling in one of their Enhanced Test Prep courses, you can take advantage of adaptive learning to quickly run through your problem areas right before exam day.
Which CPA Review Has The Best Flashcards?
There's a reason that a lot of the older study methods still exist: the way that humans learn hasn't changed that much! CPA exam flashcards are a popular study tool because these help to reinforce key topics and are perfect for rote memorization. Check out these great CPA flashcards below:
Becker CPA Flashcards
Regardless of which tier of study package you choose, Becker provides over 1,400 digital flashcards to help you memorize important concepts and terms relating to the CPA exam. These are accessible on desktop and mobile devices, but you can also get an identical set of printed cards if you enroll in their Pro review course.
UWorld Roger CPA Flashcards
UWorld offers hundreds of digital flashcards with unique features. Through spaced repetition, you can work through your customizable decks in a pattern that helps you remember specific terms and subjects. And speaking of customization, you can instantly create new flashcards by highlighting different portions of the study text.
Which CPA Review Course Has The Best Mobile Apps?
Studying on the go is incredibly important for students and those who are working full time. Studying on your phone during your subway commute or lunch hour is invaluable, as it can turn downtime into productive breaks. CPA exam mobile applications are the best way to squeeze in twenty or thirty minutes of studying, especially when the app is fully optimized!
Becker CPA Review Mobile App
Becker deserves special recognition here due to the fact that they offer two different mobile apps as part of their CPA review catalog. The first is a standard companion app that allows you to seamlessly access all of your digital study materials wherever you are; it even lets you pick up from where you left off by switching from mobile to desktop and vise versa. Additionally, Becker's Accounting for Empires mobile game offers more educational value while also being an entertaining game you can play on your study breaks!
Surgent is offering a completely free Flashcard app for iPhone and Android giving you the chance to study 2,200+ CPA exam terms and definitions on your smartphone. Every candidate should be taking advantage of this offer while it lasts!
Which Is The Best CPA Review Course for Video Lectures?
CPA video lectures are ideal for those that prefer to learn by watching a teacher go over the important accounting concepts. Since many students prefer this style of learning, video lectures are one of the most important parts of any CPA review course.
UWorld Roger CPA Review has some of the best video materials in the industry with his engaging lectures. Another great course for video lectures would be Surgent CPA Review and its knowledgeable instructors.
| | |
| --- | --- |
| CPA Review Course | Video Lecture Hours |
| Surgent CPA Review | 350+ |
| UWorld Roger CPA Review | 120+ |
| Yaeger CPA Review | 120+ |
| Gleim CPA Review | 100+ |
| Fast Forward Academy | 470+ |
| Becker CPA Review | 190+ |
Bottom Line: Since Roger is the most engaging instructor in the industry, UWorld Roger CPA Review is the best review course for video lectures.
Which CPA Review Course has the Most Multiple Choice Questions?
Multiple choice questions are the core of any CPA review course, as these mirror the exam content and are the best way to practice for the test. The number of MCQs isn't always the most important metric for these questions. You must also note that some questions are harder and more like the actual exam than others. Becker CPA review has a ton of great questions, but Gleim has the highest volume by far.
| | |
| --- | --- |
| CPA Review Course | Multiple Choice Questions |
| Surgent CPA Review | 8,200+ |
| Becker CPA Review | 8,300+ |
| Yaeger CPA Review | 5,000+ |
| Gleim CPA Review | 10,000+ |
| UWorld Roger CPA Review | 6,000+ |
| Fast Forward Academy | 6,000+ |
Bottom Line: Gleim CPA Review provides more multiple choice questions than any course, so you're not going to run out of practice questions.
Which CPA Review Course has the Best Task-Based Simulations (TBS)?
Task-based simulations are increasingly important because of the changes made to the CPA Exam in 2017. Because of this new test that places more importance on simulations, CPA exam review courses now place more emphasis on these questions, ensuring you can pass after practicing the TBS section. Once again, Becker and Gleim are the best courses for TBSs that have included up-to-date TBS materials and have optimized these sections for the new CPA exam blueprints.
| | |
| --- | --- |
| CPA Review Course | Number of Task-Based Simulations |
| Surgent CPA Review | 450+ |
| Becker CPA Review | 500+ |
| Yaeger CPA Review | 164+ |
| Gleim CPA Review | 1,300+ |
| Fast Forward Academy | 230+ |
| UWorld Roger CPA Review | 400+ |
Bottom Line: While Becker CPA review has extremely up-to-date materials with tons of accompanying video content, Gleim CPA Review has the most task based simulations for your CPA exam practice.
CPA Study Material Discounts & Financing Options Compared
Why pay full price for a CPA review course when there are plenty of great CPA discount codes that are available! Take hundreds of dollars off Surgent CPA Review or another course with these great CPA course promo codes. If you can't pay for a pricey CPA course, check out the financing options from Surgent and Roger CPA Review.
| | | |
| --- | --- | --- |
| CPA Review Course | Price with Discount | Financing Available? |
| Surgent CPA Review | $999-$1,999 | Yes, 0% |
| UWorld Roger CPA Review | $1.599-$2,499 | Yes, 0-30% |
| Yaeger CPA Review | $1,399 | Yes |
| Gleim CPA Review | $999-$3,499 | Yes |
| Fast Forward Academy | $1,749 | Yes |
| Becker | $2,499-$5,999 | Yes |
Bottom Line: Surgent CPA Review offers the best financing options, with 0% and a low monthly rate thanks to an affordable price point.
Additional Resources to Get You On the Right Track
Not sure which review course is right for you? Don't worry, I've got your back! Check out my side-by-side comparison of Wiley CPAexcel vs. Becker. If you have any specific CPA exam questions, just drop a comment below, and I'll personally help find the right course for you!
CPA Requirements by State Summary
Picking the right course is important to help you pass the CPA exam, but you still need to understand your state-specific requirements for the certification. Each state asks you to complete an education and work experience requirement before you can sit for the exam. Plus, you may need to complete an ethics exam or be a certain age before you qualify.
All of that is why it's so important to understand each state's CPA exam requirements. To help you out, I've created a resource you can use to easily check if you qualify for the CPA exam in your state. It lists all the major requirements for each state and is a great checklist when preparing for the exam.
Bear in mind that this is a general overview. You'll want to check your state's CPA board for a more specific breakdown of what's required when preparing for the exam. Should you do so, it'll be easy to meet the requirements and schedule an exam.
CPA Review Courses FAQ
Is becoming a CPA worth it?
The total amount that you will have to spend to pass the exam is about $4,400. Of course, this sum could vary based on the CPA Review Course that you choose. Additionally, each state has its own rules and charges, so this could also result in a higher (or lower) total cost. You also have to remember that you may not pass on your first attempt. This could mean additional exam fees and registration charges. However, the total expenditure for passing the CPA exam is a small fraction of the financial gains that you can make as a member of one of the world's most respected accounting bodies.
How long does Becker CPA Review last?
According to Becker, your license will expire at the end of 18 months from the date of first login or 24 months from the date of purchase, whichever occurs first.
Is Wiley CPA better than Becker?
Although Wiley has an appealing price and promises many helpful features, Becker far outshines them with high-quality instructors, excellent mobile apps, and tons of follow-up help.
What is the average salary of a CPA?
According to Payscale, the average annual salary of a CPA is slightly over $65,000.