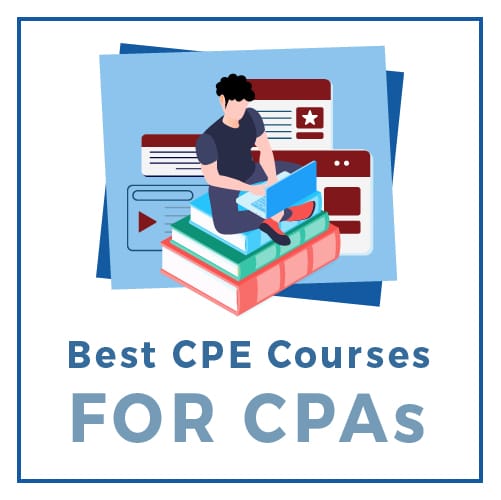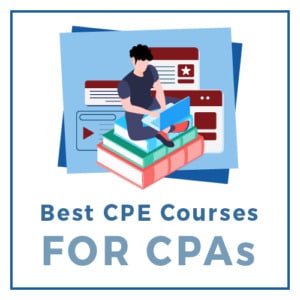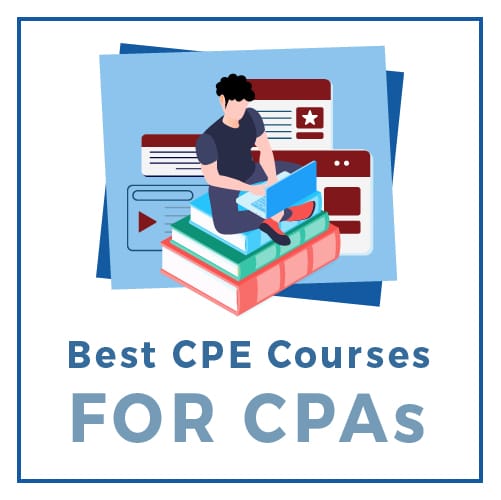 CPA licenses require a great deal of work to maintain. You have to earn about 40 CPE credit hours (Continuing Professional Education) per year, but it can be tough to find the time for this while working a full-time accounting job.
Luckily you have a few options to help you meet these CPE requirements— the best of which is an online CPE course.
Despite there being so many online courses that offer CPE credits, only a few of them really stand above the rest. Read on to see how each of these self-study and live courses stack up against each other.
Each has its own strengths and weaknesses, so it's important to be informed and pick the one that fits you best!
THESE ARE THE BEST SELLING CPE STUDY MATERIALS & PREP COURSES: [UPDATED: 2023]
Lorman CPE Review
---
#1 Becker CPE Course

Affordable Prices: Becker understands that not everyone can afford expensive study packages. That's why they offer you a choice of three different subscription types. These are the Essentials, Select, and Prime courses. Each of these comes with a wide range of materials and pricing— so you don't have to worry about paying more than you absolutely need to.
Free Trials: Most of Becker's courses come with a free demo. These allow you to get a feel for the courses before deciding on a purchase. With the ability to make an informed decision, you shouldn't experience any unanticipated issues when you eventually pick one of their self-study courses.
Multiple Study Formats: Becker courses offer a wide range of formats for you to use while studying. If you work well on your own, they have excellent self-study CPE materials. However, if you prefer live formats you'll have access to a series of webinars and conferences. Because of that, there are no limits on how you can earn CPE.
Paywall: Although Becker's lower tiers are affordable, they lack some of the high-quality content being offered by this CPE provider. For instance, premium courses are exclusive to the Select and Prime courses— so you'll miss out on them if you opt for the most affordable package.
Bottom Line: Becker is at the top of this list for a reason. They have well crafted materials at an affordable price that allows you to learn in the way that's most comfortable for you. Definitely check this service out!
Becker CPE Review Discounts & Promo Codes
---
#2 Surgent CPE Course for CPAs

Live Seminars: Surgent offers live webinars at a constant pace throughout the week. This means that you can access live instruction even while living in different time zones and/or having an unconventional schedule.
Broad Catalog: In addition to their seminars, Surgent also offers over 10,000 unique self study credit hours. These cover all aspects of professional accounting and are constantly updated to reflect new regulations and tax updates.
Experienced Faculty: Surgent only hires the best of the best as their instructors. Their staff has earned over 500 CPE Speaker of the Year awards— so you can rest assured that you're only learning the most relevant content from the best possible instructors.
Costly Packages: Surgent can get expensive quickly if you don't know what you're looking for. Individual course prices stack up pretty high, and the packages aren't exactly cheap either. So if you're not comfortable with their pricing structure, Illumeo is a safer bet.
Bottom Line: Surgent is an extremely competitive choice for helping you pass the CPA exam— but they're not as impressive when it comes to earning CPE credits. They still offer a decent collection of continuing education materials, but there are better options for your money.
Surgent CPE Review Discounts & Promo Codes
Get up to $200 Off Surgent CPE Unlimited Plus Package
35 uses today
Last Used: 8 days ago
Get $170 Off Surgent CPE Unlimited Plus Package
40 uses today
Last Used: 6 days ago
---
#3 Illumeo CPE Course


Impressive Accreditations: Every Illumeo course is taught and developed by an experienced CPA. This ensures that all course content is relevant and up to date. Plus you'll gain personal insight into the topics being taught. As a result, it's no surprise that this company has so many impressive accreditations.
Free Courses: In addition to their paid content, Illumeo also offers 12 continuing education courses completely free. These allow you to understand how the different courses work and decide if their style works for you. These free courses still count for CPE credits too— so you won't waste any time by trying before you buy!
Available Anywhere: Illumeo courses are available in any format, including those compatible for computers, phones, and tablets. This allows you to learn whenever and wherever you want, making it so much easier to squeeze in some studying during a busy schedule. Simply slot out a couple of minutes a day to learn, and you'll easily earn your CPE credits.
No Specialization: Unfortunately, Illumeo's course catalog can be a bit unfocused. This is because they offer so many materials for so many different certifications that you can easily get lost in it all. If you can stay in the study areas that matter to you, this shouldn't be too much of a problem. But if you're the easily distracted type, you might want to look elsewhere.
Bottom Line: Illumeo is one of the best services for self studying. You won't find any live content, but if you know what you need to learn and are willing to put the work in, you'll gain a lot from them.
Illumeo CPE Review Discounts & Promo Codes
---
#4 Lambers CPE Course

Constant Updates: Lambers' library is constantly updating for free. Technically, this means you'll have access to nearly unlimited continuing professional education. Plus, these courses cover a wide range of topics— so you'll always be learning something new instead of constantly rehashing concepts you already know.
Subscription Plan: Unlike other courses, Lambert doesn't offer multiple payment tiers. Instead, they offer an affordable and easy to understand subscription plan. For just one flat yearly rate, you'll gain unrestricted access to all of their content. Nothing is locked behind a paywall; the only limits are the ones you set for yourself!
Expert Teachers: Lambers employs some of the most qualified and recognized instructors in the industry. Each of them has several years of experience in teaching CPE courses. Plus they can take difficult topics and make them easy to understand by anyone. Thanks to that each course is engaging and simple to learn.
Refund Policy: Unfortunately, Lambers has a very limited refund policy. You can only return print materials if they've been unopened, with no option to return digital content. A restocking fee will also be taken out of your refund, so you're not guaranteed all of your money back. Basically, you should only buy from Lambers if you're 100% sure that you're not going to change your mind!
Bottom Line: Lambers is a terrific and affordable option for tax professionals who don't want to pay for the more expensive courses. They offer great material at a low price but ultimately struggle to keep up with the bigger name— so you might prefer Becker CPE if you can afford to pay a little bit more.
Lambers CPE Review Discounts & Promo Codes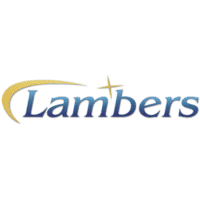 Exclusive Offer- Up to 20% Off Lambers CPE Courses
34 uses today
Expires in 3 days
Last Used: 2 days ago
---
#5 Lorman CPE Course

Live Content: Lorman offers a wide array of live webinars. These cover a range of topics and are helpful to those who learn best in a lecture format. You have the choice of watching them live or viewing a recording later, so you can access this content at your convenience.
All Access Pass: If you don't want to limi yourself to one type of study content, Lorman also offers an all access pass. This gives you a year of unlimited training with everything on the site: audio recordings, webinars, course manuals, and more. No need to pick and choose if you're interested in a little bit of everything.
On The Go Learning: Lorman lets you work on the go or slot study time into small breaks into your schedule. For instance, you can listen to audio recordings during your commute, or read a course manual during a lunch break. This is possible thanks to their variety of study materials and compatibility with mobile devices.
Expensive: Unfortunately, Lorman's content comes at a relatively high price— whether you're signing up for their all-access pass or an individual course. When compared to options like Illumeo and Becker, the amount of materials you can get for approximately the same price is much lower if you opt for this company.
Bottom Line: Lorman offers well crafted content in several formats as well as a (somewhat pricey) all-access pass. This is an excellent option for CPE credits if you're willing to pay, although you can shop around and find a better deal.
---
AICPA CPE

Experience: What better place to study CPA continuing education than the organization that handles the CPA exam? The self-study courses offered by the American Institute of CPAs (AICPA) will help you maintain your professional certification while also getting relevant information about the industry.
Access Period: If your CPE study session gets interrupted, you can always come back later to finish. With a full year of access to many of their resources, you're unlikely to run out of access when you enroll in a course.
Members Only: Although they offer discounts on some CPE resources, you'll need an AICPA membership for them to apply. So if you're uncomfortable with their pricing structure, Illumeo is a safer bet.
Bottom Line: Resources available through the AICPA are not just helpful. They're also reputable and affordable (if you become a member).
---
EY CPE
Informed Content: As one of the Big 4 Accounting Firms, Ernst & Young (EY) hire a significant percentage of professional accountants. Learning from their CPE webcasts can help you achieve similar success in your career.
Packed Schedule: EY CPE Webcasts are regularly held without any significant blackout days, so you should be able to find an interesting virtual seminar year-round.
Live Only: Unfortunately, you won't receive any CPE credits for non-live EY CPE content. Until they add the option for asynchronous studying, this probably won't be a viable option if you're in school or working full-time.
Bottom Line: Although they have lots of insightful continuing education content, EY's webcasts can be hard to access for busy professionals. If you need a more flexible CPE provider, try Becker instead.
---
American CPE

Flexible Formats: Do you prefer to study at your own pace? What if you prefer a hands-on educational experience? In either case, American CPE has study materials that meet your personal preferences.  
One Stop: To ensure you waste as little time and money as possible, American CPE has a 1-Year Unlimited CPE package. If you sign up for this, you can chosee from nearly 300 courses and take an unlimited number of practice tests.
Live Is Extra: Although their live webcasts are helpful for students who want to learn from face-to-face instruction, you won't be able to access them as part of American CPE's 1-Year Unlimited bundle. Instead, you'll need to pay separately for each one.
Bottom Line: Feel free to select options from this CPE provider that match your preferred learning style. However, you'll avoid paying more for live content if you choose Illumeo instead!