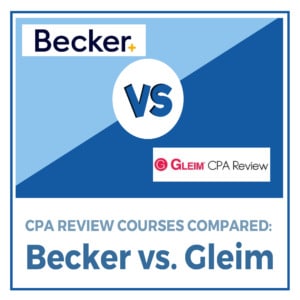 In order to effectively prepare for the exam, select the best CPA review course and you'll know how to spend your study time. A well made course will handle these concerns for you while also fortifying your professional knowledge for the examination ahead. We did some of the research for you by comparing two of the top companies: Becker vs. Gleim!
Have we got your attention? Then let's get started!
---
Overview of Gleim CPA Review & Becker
Before jumping into our CPA course review, we'd like to give you a little background information on each of the companies that we will be reviewing in the article below:
Gleim CPA Review
Irvin Gleim sparked a revolution in 1974 with the publishing of his CPA exam review book. As the years have progressed, more educators have adopted a similar style and approach to preparing students for their exams. But just as these companies have grown, so too has Gleim's reach expanded within the space of professional finance and accounting. 
Gleim has published many additional books and supplementary study materials since their first. Furthermore, they've launched a truly formidable online CPA review course that has served tons of students along the way. Gleim's experience in this particular educational niche is matched only by the attention to detail and care they show to their students.
Becker CPA Review

Becker has earned a seriously impressive reputation by taking their review content just as seriously. Their primary focus is on providing timely and up to date content on a technologically sound platform that mirrors the exams they cover as accurately as possible. They also serve the Big 4 accounting firms and have kept long standing relationships with 99 of the nation's top 100 firms.
---
Gleim vs. Becker: Course Access
It stands to reason that if you're paying for something, you'll want to know how long you'll be able to actually use it. Luckily, both Gleim and Becker have CPA review courses with substantial access periods.
Gleim CPA's Course Access
Looking first at Gleim's packages, they offer Traditional CPA Exam Review as well as Premium CPA Exam Review. The Traditional CPA Exam Review expires after 24 months, whereas the Premium packages fall under what Gleim refers to as "Access Until You Pass." 
With Access Until You Pass, you can take as long as you need to work with the review material so long as you are still scheduled to be taking your exam in the near future. Additionally, Gleim will grant you access to content as it's updated— even allowing you to purchase new textbooks as they come out for only the price of shipping.
Becker CPA's Course Access
With Becker, your level of access is dependent upon which level of package that you choose. For example, their lowest package comes with access for up to 24 months. Should you choose to enroll in either of the Premium package options, however, you would then have unlimited access to Becker's CPA review content. It's actually one step beyond what Gleim offers, since this access even continues after you've passed the exam!
Winner: Becker CPA Review
Gleim's "Access Until You Pass" is appealing, but Becker has unlimited access that's just a little bit better. Fortunately, both of these courses will provide you with all the time you need to study, which is the most important thing!
---
Gleim vs. Becker: Course Study Materials
If you're interested in how long you'll be able to use each course, you're definitely also interested in knowing what you're actually paying for. In this case, both providers offer a heaping helping of CPA Exam Review goodness— but let's go into a little more detail. 
See these comparisons of their video lectures and multiple choice questions to get a better idea of whether Gleim or Becker fits your personal study preferences:
Gleim CPA Review's Study Materials
As we mentioned in our previous section, Gleim offers both a Traditional and a Premium CPA Exam Review package. The Traditional package is a solid foundation, but enrolling in a higher course builds upon this for even better results. This package includes 1,300+ Task-Based Simulations, 10,000+ multiple choice questions, and 350+ exam simulations. In addition to these study materials, the Traditional bundle will also net you access to features like guidance from personal counselors, audio lectures, and the option between physical and digital textbooks.

But with so many features present in the basic package, what's the next step up?
The Gleim Premium CPA Review package builds upon the Traditional bundle in a few key ways. The first is the aforementioned Access Until You Pass guarantee, ensuring that you have no limit on accessing your course materials until you feel fully prepared for your exam. They also throw in professionally-led instructional videos as well as access to a bank of digital flashcards.
Becker CPA Review's Study Materials
Becker offers three different package levels: Advantage, Premium, and Pro. But what's the difference between them? 
Here's the rundown:
Becker's Advantage package is their least impressive option, but that doesn't mean it's lacking content. This package includes 24 months of access to a 4-part review course, printed and annotated digital textbooks, 1-on-1 academic support from actual CPAs, and an interface that invokes the style of the actual exam. They even threw in the educational game Accounting For Empires, which is a fun break from hardcore studying.
Becker's Premium package is inclusive of everything that was included in the Advantage along with some extra perks: 1,100+ extra multiple choice questions, extra tutoring, and a bonus final review cram course. However, Becker's Pro bundle takes this even further and really sweetens the deal. This package allows you to have 5 one-hour tutoring sessions with an Accounting Professional, extra flashcards, and a full year of access to their Continuing Professional Education (CPE) program.
When looking at reviews from accounting students, there's a common trend referred to as the "Becker Bump." Thanks to a difference in grading style for their mock exams, students noticed that their actual exam scores are much higher than the ones they got on their practice tests. This is one of the strongest benefits Becker has to offer, and it's unmatched by anything in Gleim's curriculum.
Winner: Becker CPA Review
Becker sets themselves apart from Gleim with their approach and content. Not only do their video lectures and other study materials fully prepare you for the present; they also help you to take active control of your career and your future. Looking at this from a student-focused perspective, you really can't beat Becker when it comes to the quality of their study materials.
---
Gleim vs. Becker: Free & Supplementary Content
Both Wiley and Gleim have free content on offer with their websites, but which of these is the greater overall value? Which is more meaningful and useful to the student who may not be purchasing anything or enrolling in any courses just yet? On top of that, which company offers better and more affordable supplementary content to accentuate their full CPA review courses? Let's examine each a bit further:
Gleim CPA Review's Supplementary Content
Gleim has a large collection of free items and study materials available to their users. There are sections on their website for free study materials and practice questions— even a breakdown of specific exam questions for those less familiar with the test.

But on top of this, Gleim offers even more content to meet your educational needs:
Check out a demo of their services so you can see if they're the right fit for you. Additionally, you can take a look at their free webinars and videos available on their site with no need to sign up for a membership or trial.
Becker CPA Review Supplementary Content
Becker doesn't quite have as many free materials to offer as Gleim, but there's still a ton of benefits you can receive. They have a full section dedicated to the CPA exam test-taking process, as well as an overview of the different sections and exam content that you'll see on the test. They also include exam requirements — to ensure you're prepared on exam day — and a page for webinars and upcoming events.
While Gleim offers more free content, Becker has a terrific catalog of paid supplementary materials. If you're struggling with a specific section of the CPA exam, try one of their Guided Simulation Exam Review packages for BEC, AUD, FAR, or REG.
Winner: Gleim CPA Review
Gleim and Becker both do a stellar job of making sure that their students have extra guidance through the overall exam process. However, the reason that Gleim wins this category is that they have free content that's comparable to their paid review. And while Becker provides similarly helpful content for a small extra price, their free offerings are more like a roadmap through the exam with some webinars and free events added in for good measure.
---
Final Recommendation
As you can see, there are aspects of both CPA review courses that are extremely appealing. However, the final winner in this comparison is Becker; they've continued to help students pass their exams and elevate them into successful futures. That isn't to say that Gleim doesn't offer an amazing CPA review course— just that their benefits are slightly outshined by those you receive from Becker (and don't forget that Becker also offers some impressive discounts on their courses).