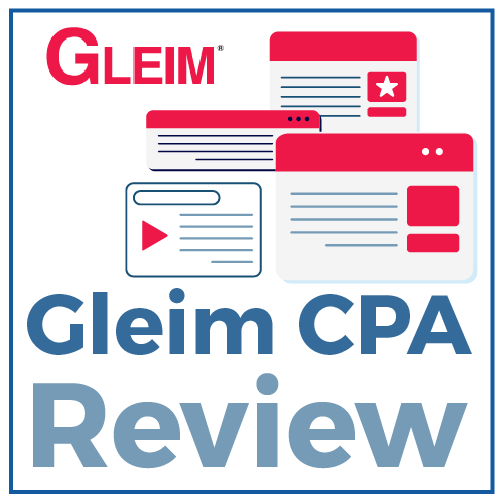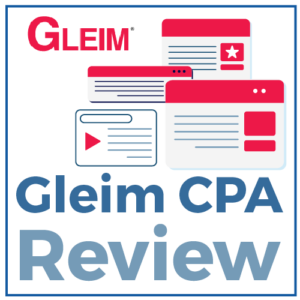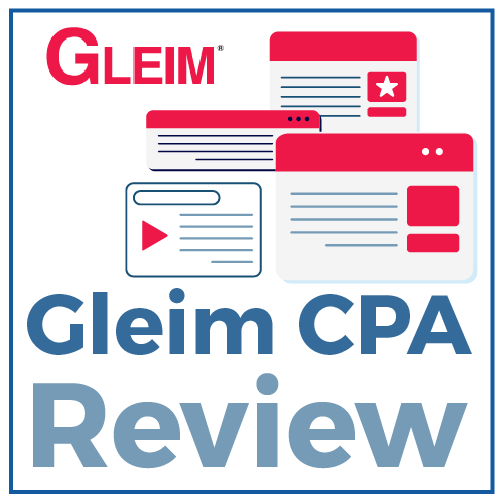 Course Rating: ★★★★★
Gleim CPA Review is one of the most well-regarded exam prep courses on the market. Furthermore, its competitive price makes it an attractive option for many students and young professionals. The completely online review system offers all the information you'll need to pass the CPA exam.
If you are a self-disciplined individual who will log in and study on a regular basis, the Gleim CPA Review is best suited for you. Keep reading to learn why:
Comparison of Gleim CPA Test Prep Course Offerings
---
Streamlined CPA Exam Dashboard
The CPA exam course dashboard offers no distractions and lets you get right down to business. A list of study topics appears on the study planner to your left, and your scores from the various practice questions, quizzes, and simulations appear next to each topic on the right as you complete them.
Individual units within the study topics are just as streamlined: you'll see a short list of topics with video lectures and links to multiple-choice practice tests. Hence, everything in Gleim CPA Review is very intuitive and organized. Consequently, all you have to do is motivate yourself to log in and do the work.
---
Take $1,000 off Gleim CPA Premium Pro
35 uses today
Last Used: 5 hours ago
Final Review and Exam Rehearsal
Gleim recommends that you complete a Final Review one week before your exam. Then link to the Final Review appears underneath the entire list of study topics and contains an Exam Rehearsal module and a Test Prep module.
Additionally, the Exam Rehearsal feature simulates the actual test you will take in the Prometric Testing Center, so you will be prepared for the format and time restrictions.
In Test Prep mode, you can create a practice exam, a study session, or analyze your performance. You can also design a review session based on your history.
---
Video Lectures and Audio Lectures

The instructor video lectures come bundled with Gleim's Premium Review Course. Essentially, they include over 100 hours of video, ranging from 5-15 minutes. Furthermore, Gleim CPA Review professors are experienced U.S. professors who lecture on key topics and demonstrate how to solve multiple-choice questions and simulations one step at a time. Consequently, these video lectures are very easy to follow.
Audio lectures are also included in the Gleim Premium Pro, Gleim Premium, and Traditional Review Courses. These lectures include one overview for each Gleim Review study unit. Lectures are clear, of good sound quality, and short (mostly 5–10 minutes). You can download or stream the lectures, making it easy to review while commuting or traveling.
For each study unit, if you purchased the Premium Review System, you can choose your preferred type of lecture: Gleim Instruct (video of professor lecturing), Audiovisual Presentation (Powerpoint slides with narration), and Audio Lectures. (Or listen to and watch all three versions to let the information really sink in!)
---
A large Number of Practice Questions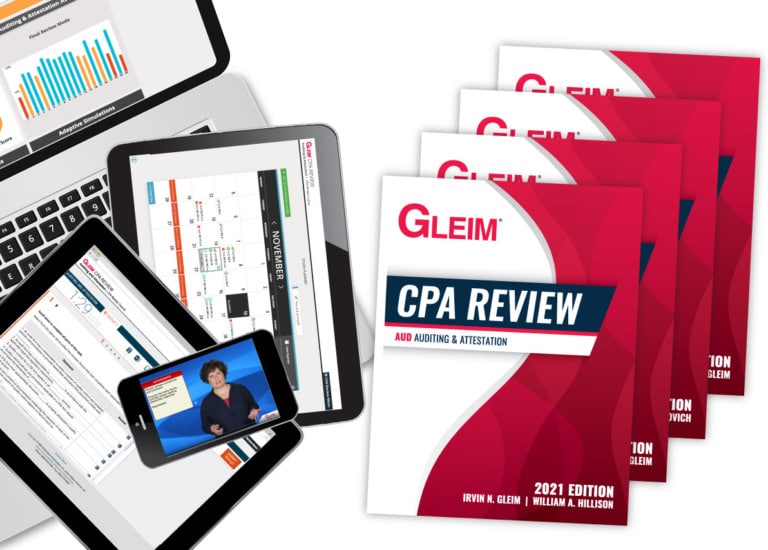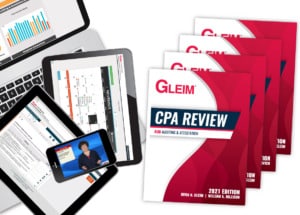 Gleim users get a lot of practice thanks to the large test bank of multiple-choice questions. Having access to 10,000+ questions and 1,300+ task-based simulations means that you are unlikely to see repeats during your practice sessions and will feel more confident in your skills when you go into the exam.
You can choose from the Test Prep or Simulation Wizard options in the Mega Test Bank. Questions include true/false, multiple choice, and Task-Based Simulations. Additionally, you are allowed unlimited attempts on all practice tests.
Check your progress with the Performance Analysis feature, which tells you how you are doing and identifies areas that require further study.
The Gleim CPA Test Prep module can also be used as a supplement to other CPA review courses. For a low cost, you'll get access to several thousand additional practice questions.
---
Free Demo and Pass/Refund Guarantees

If you create an account by providing your email and some information about yourself, you can try out Gleim's products for free. Hence, you'll get complete access to the first study unit, can check out the Test Prep module, listen to audio lectures, and can download and view relevant study materials.
Furthermore, Gleim also offers an impressive set of guarantees for its products. If you do not pass the CPA exam (or individual sections) on your first attempt after using their course, you can request either a refund or unlimited online study material access until you pass. Please see Gleim's website for additional rules and requirements.
---
Too Much of a Good Thing?
The one drawback of Gleim's exam prep course is that its materials may be too comprehensive for some people. The broad digital outlines/books and an impressive number of practice questions and simulations are not for the faint of heart and will take some time to work your way through.
Thankfully, Gleim has added adaptive technology to their software to help candidates make their way through their studies. The software will direct you to the material you actually need to study based on your strengths and weaknesses.
---
Our Suggestion
Gleim CPA Review is a great choice for self-motivated learners looking for a less expensive review course that is still effective. The videos may not be as engaging as some of their competitors, but they are clear and taught by friendly and knowledgeable professors who all appear to have the same goal: to get students to pass the CPA exam on their first try. They've also revamped their videos in recent years, making them much more interesting than past versions.
The program is very flexible because you can buy one of their three review systems, or you can purchase just the test bank. The best value for your money, however, is to get the Premium Pro Review System, which includes everything you could possibly need to know for the CPA exam. The Test Bank alone is probably worth purchasing, even if you are already working with a competitor's review course.
Try out their extensive free demo today to see if the tried-and-true Gleim materials are right for you!
Gleim Exam Prep Company Info

Website: Link
Physical Location: Gainesville, FL
Year Founded: 1974
Exams Covered: CPA, CMA, CIA, EA
Continuing Education: Yes
BBB Grade: A+
Trustpilot Rating: 3.5
Social Media: Facebook, Instagram, Twitter, Youtube
Contact Page: Link