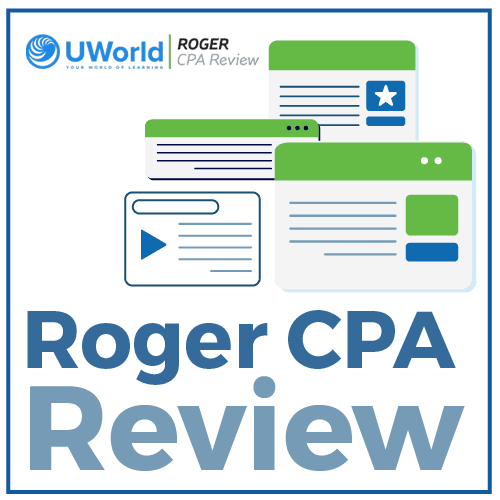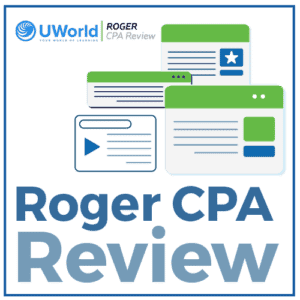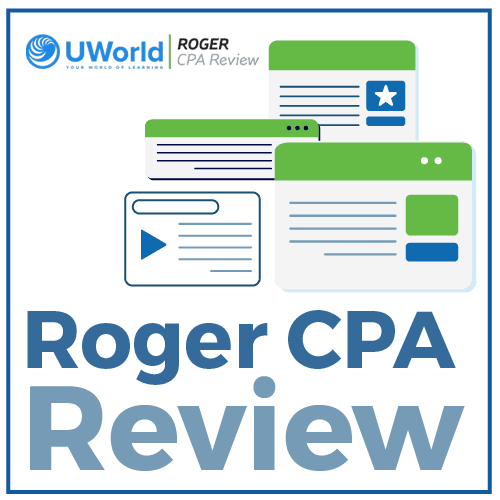 Course Rating: ★★★★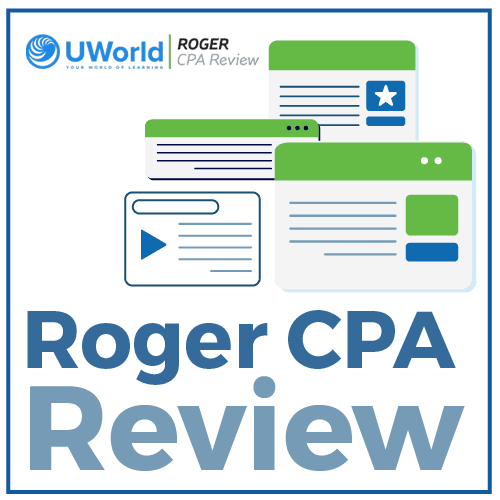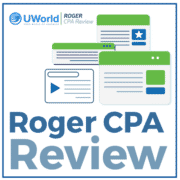 UWorld Roger CPA Review is one of the most engaging and comprehensive CPA review courses on the market. It includes high-energy lectures that keep you interested, powerful diagnostics to track your progress, and memorization aids to help you retain the most essential information.
If you are looking for a fast-paced course that keeps you motivated, you've found it. Here are the most important elements that set Roger CPA Review apart from the competition:
Comparison of UWorld Roger CPA Review Course Offerings
| | | |
| --- | --- | --- |
| Course Features | Premier | Elite-Unlimited |
| Cost | $1,899 | $2,999 |
| 100 + hours of video lectures | | |
| Electronic and physical course textbooks | | |
| 6,000+ multiple choice questions and task-based simulations | | |
| CPA Exam Simulator with an unlimited amount of full length practice exams | | |
| SmartPath Predictive Technology for guided education | | |
| Study Hub access | | |
| Customizable study planners | | |
| Free material updates | | |
| Offline Lectures on mobile app | | |
| Digital Flashcards with Spaced Repetition | | |
| Unlimited Course Access | | |
| Audio Lectures | | |
| Roger Cram Course | | |
---
User-Friendly Online Platform
One great feature of UWorld Roger CPA Review is its streamlined dashboard. When you log in, you can choose a course outline (BEC, FAR, AUD or REG) and get started right away. Whether you want to watch a video, read from the study text, or jump right into some practice questions or flashcards, you can easily do it without having to navigate a ton of sub-menus.
At the top of the dashboard, a countdown clock tells you how many days are left before your exam day, and the top right reminds you exactly where you left off during your most recent study session. It also shows you how much of the course you've already completed to gauge your progress.
You can navigate easily among different sections on the site, watch videos or listen to audio lectures, or take notes and solve practice questions. The dash keeps a current overview of all of your studying in a kind of table of contents; with this, you can find out how much of a video you've viewed and whether you've bookmarked certain topics.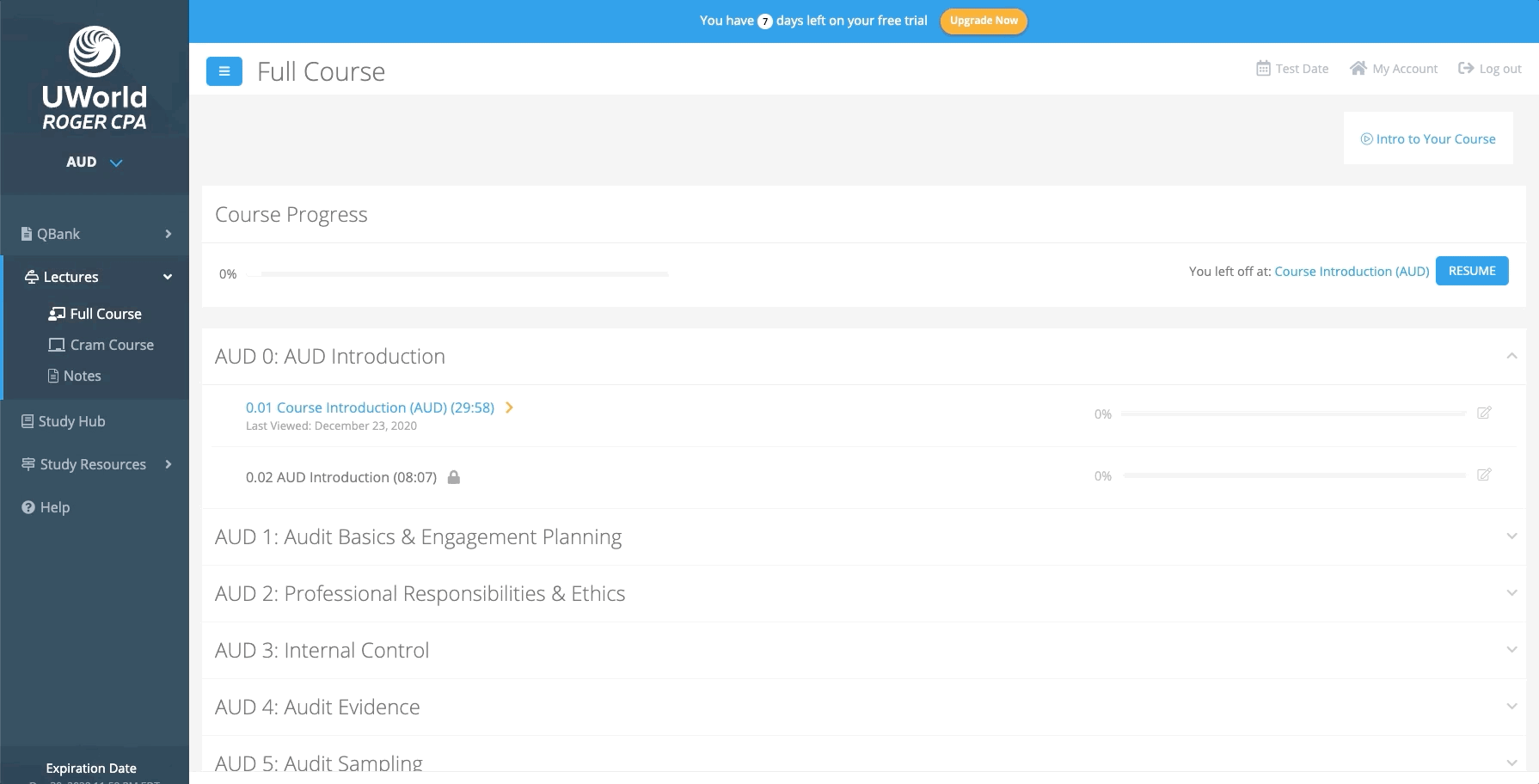 ---
Video Lectures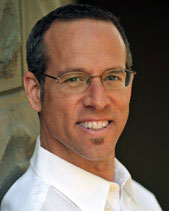 The video lectures in this course stand out for their high energy and fast pace. One thing is for sure: you will not be bored while you study if you choose UWorld Roger CPA Review! The course founder, Roger Philipp, keeps you interested and focused with his upbeat and unique "Roger Method" and fast-paced lectures.
His passion for helping students pass the CPA exam is evident, and he brings almost 25 years of teaching experience to the table. But if that sounds a little too intense, the good news is that they include some features to make these lectures more accessible. You can speed up or slow down each video, turn on or off captions, and even create time code "bookmarks" to check later.
You can take notes in the video module and highlight or search text that pops up in the window immediately to the right of the video you are watching. The program saves and archives your notes, which can be accessed and downloaded at any time from the "My Notes Summary" section in either PDF or HTML format. The Video Bookmark feature allows you to tag a specific time in the lectures to make it easier for you to go back and review it later.
---
Technique and Technology
UWorld Roger's lecture content makes superb use of mnemonics and other memorization tactics. This is to help students retain all essential information and recall details when it matters most. Recently, UWorld added several new features that also help with memorization, like SmartPath. This predictive learning technology guides your study plan based on data from past students. Additionally, the digital flashcards that come with all course packages use spaced repetition to reintroduce specific concepts at a rate that improves your memory of them!
---
Integrated Textbook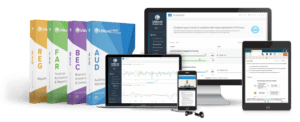 UWorld Roger's course textbook is fully integrated with the software. You can take notes, create custom practice tests and quizzes, and check your scores without skipping a beat. Also, textbooks are available in both physical and online editions— just not for Premier students.
The course itself is available online and can be accessed from computers, tablets, and smartphones. You can study whenever and wherever you want with 24/7 online access, compatibility with iOS and Android devices, offline access, and audio lectures.
---
Revamped Practice Questions
UWorld Roger CPA recently updated their practice question bank, giving you access to more than 6,000 practice questions, simulations, and AICPA-released questions. These also include detailed explanations so that you'll know exactly why a specific answer choice is the correct one.
SmartPath predictive technology reinforces the effectiveness of this content by tracking and analyzing your performance. This way, you can identify which sections you'll need to review again before you take the exam.
---
24/7 Support
You can also get around-the-clock help from actual CPAs through the Study Hub. Take a look at over 17,000 questions asked by other students if you need clarification of a trickier concept or two. And if you've signed up for an Elite-Unlimited package, you can ask questions of your own; expect an answer within 24 hours!
---
Fast-Paced Lectures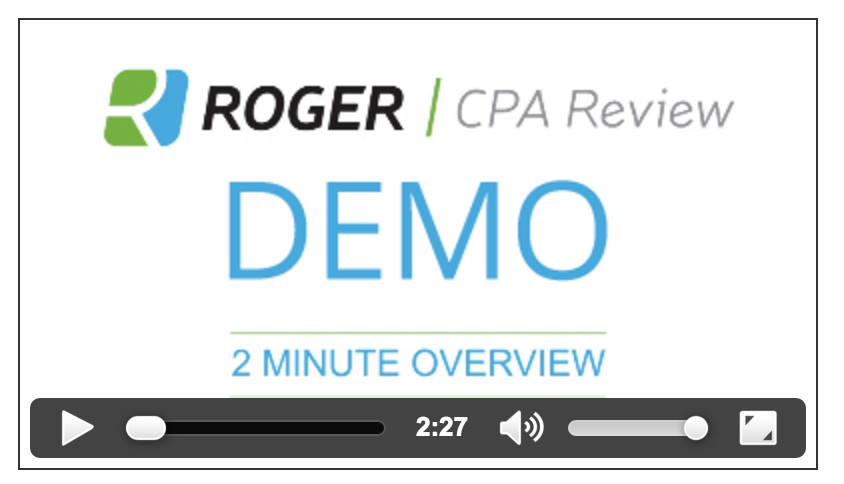 Roger teaches his lectures at a faster pace than other review courses. His energetic teaching style helps to keep you engaged and focused at all times. However, some students may have a harder time keeping up.
To address this issue, UWorld's development team added the feature that gives you the ability to slow down the playback speed of each video in addition to closed captions or subtitles for English. This is extremely helpful for international students, students with learning disabilities, and any other CPA candidates who prefer to learn at a slower pace.
---
UWorld Roger CPA Discounts & Promotions
Crush Discount: UWorld Roger CPA Review is offering a huge limited-time CPA review course discount for Beat The CPA readers. Check out the details of this exclusive promo offer here!
---
Financing Plans Available
Additionally, UWorld Roger CPA Review now also offers financing plans to help cash-strapped students afford their courses and materials on a fixed monthly payment schedule.
Good CPA review courses aren't cheap— but UWorld has partnered with another company to offer affordable financing as low as $149 a month.
Here's how it works: you'll be asked to supply basic information during checkout if you select the "Affirm Monthly Payment" option. You'll find out right away if you are approved. Then, you can pay over 3, 6, or 12 months with interest rates from 0-30% APR, depending on your credit rating. You can pay your monthly bill with a bank transfer, check, or debit card.
To learn more about these financing options please click here to read the details on the UWorld Roger CPA Review website.

---
UWorld Roger Audio CPA Review Course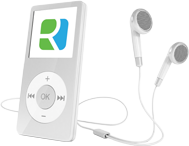 *Update – The UWorld Roger CPA audio course is now included in all of their CPA course packages and can no longer be purchased as a stand-alone product. If you're an auditory learner or like to study while multitasking, this is great news for you!
---
My Suggestion
The best reason to choose UWorld Roger CPA Review is to watch the man himself in action. His motivational lectures, catchy mnemonics, and high quality materials make reviewing for this challenging exam more interesting and efficient than other CPA prep courses. I appreciate that Roger can take any accounting topic and make it interesting, while cutting out any extraneous information to shorten study time.
However, this course isn't just a collection of good video content; it's also got powerful technology to back it up. Thanks to their surprisingly robust digital flashcards and SmartPath integration, you should be able to memorize important concepts without wasting a lot of time.
Essentially, I recommend UWorld Roger CPA Review if you're looking for motivation. It's been designed from top to bottom to keep you engaged, so you won't regret the decision!
Recap
PROS
Dynamic and Entertaining Video Lectures
User-Friendly Platform and Streamlined Dashboard
6,000+ Updated Multiple Choice Questions with Explanations
Ingenious Mnemonics
Impressive Technology
24/7 Support from Qualified CPAs
High Quality Materials and Flexibility
Financing Offered
CONS
No Unlimited Course Access for Premier Package

Can't ask Study Hub Questions Without Elite-Unlimited subscription
---
Pricing
Premier Course Package
Price: starts at $1,899 or $649 per section
Includes: Exam Questions, Lectures, SmartPath, Mobile App, QBank, Audio Lectures, Study Hub Access, and Physical Textbooks.
Elite-Unlimited Course Package
Price: starts at $2,999
Includes: Everything in Premier Package plus CPA Exam "Expert Deck" Flashcards, Cram Course, and Submissions to Study Hub.
UWorld Roger CPA Review Course Highlights
| | |
| --- | --- |
| Roger CPA Review Course | Pros |
| 1. | Integrated Textbooks |
| 2. | 24/7 Support |
| 3. | Lots of Discounts and Financing |
| 4. | Spaced Repetition and other Memorization Strategies |
| 5. | Audio Review Course |
| 6. | Predictive Technology |
UWorld Roger CPA Promo Codes & Discounts
---