Crush The CPA Study Guide Rating: ★★★★★
Taking the CPA exam is quite a time-consuming and financial commitment. Only 20 percent of candidates pass all four sections of the CPA exam on the first try and if you fail just one section, you can expect to study for an extra 50 to 100 hours.
If you want to save yourself time and money, you'll need a comprehensive study guide that'll take you step-by-step through the process and properly prepare you, so you know exactly what to expect on exam day.
Bryce Welker, founder of CrushTheCPAexam.com, has just launched a new CPA Study Guide guarantees to reduce your total study time, keep you on track with a weekly study plan, and provide you with invaluable hacks and insider information to increase your scores. And if you don't pass on the first try, you'll get your money back. No questions asked. This Study Guide is the real deal and will drastically improve your chances of passing.
In a recent interview Bryce said, "I wanted to create a study guide filled with all the information I wish somebody would've told me before I started on my CPA journey, so that's exactly what I did."
---
Minimize Study Time & Focus On What's Important
The expert techniques found in this Study Guide are an invaluable resource for making studying manageable and giving you the greatest chance of success on your CPA Exam. You'll be able to reduce your study time by over 100 hours, while simultaneously increasing your scores on each section.
These tips and tricks will help you retain more than 80 percent of what you study and be able to recall important facts and figures instantly. If you want to trim the fat on your study habits and spend time concentrating on what you'll actually be tested on, instead of the unnecessary details, this is the CPA Study Guide for you.   
---
CPA Simulations Preparation
Representing 40 percent of your total score on three out of the four exams, the CPA simulations can be the difference between passing and failing. The simulations test a candidate's ability to apply learned concepts in a business environment. Being able to budget your time on these sections is extremely important and this guide will give you advice on how to leave enough time for the simulations, while also preventing you from getting stuck and bogged down.  
---
Weekly Study Plan
When studying for the exam, sticking to a consistent schedule can be difficult, especially if you have important commitments like a family, a full-time job or school. Bryce's proven weekly study plan will help keep you focused and motivated by mapping out a daily ritual that best fits your study habits. Whether you study better at night or in the morning, or focus better at home or at a coffee shop, this guide will help you be more efficient.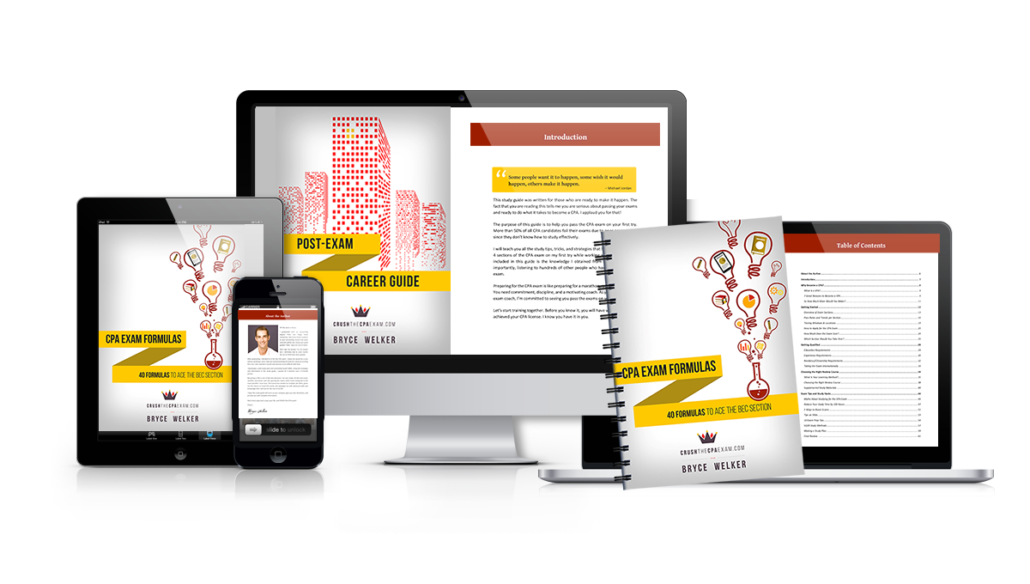 ---
Final Review Game Plan
The way you spend your last 72 hours before your CPA Exam can make or break you. This guide will help you become laser-focused, put your mind to the grindstone and fine-tune everything you've learned. From which day to schedule your test to shutting off from all outside distractions, these final review tips are not only a chance to go over important information that'll be found on the test, but a great boost of confidence.
---
Special Bonus Offers
The special bonuses offered with this study guide are unmatched. Applying to take the CPA Exam can be tedious to say the least and this guide includes a free CPA Application Guide to walk you through the process step-by-step. By simplifying this process and providing you with all the information you need to know, you'll spend less time worrying about getting approved and more time actually studying for the exam.
One of the most challenging parts of the BEC exam is memorizing all the formulas you have to use, but an included CPA Formulas Cheat Sheet will help you retain the 40 most important formulas that you'll have to remember for the BEC exam.
Lastly, you've worked hard and sacrificed your social life, time, and money to become a CPA. What do you do now? A Post-Exam Career Guide will help you create the perfect resume for that dream job you've been looking for, give you networking pointers and help you navigate your continuing education requirements.
---
Conclusion
The Crush The CPA Exam Study Guide is truly a one stop shop where you can find answers to any questions you encounter. No matter what stage of your CPA journey you're in, this Study Guide will help you prepare like a pro. From reducing your study time to creating a final review game plan, these tips and techniques will help you pass your exam on the first try.
With three special bonus offers and a 100 percent risk free, money back guarantee, this is a value-packed offer that you won't want pass up, especially if you're serious about becoming a CPA.
Crush The CPA Study Guide Review