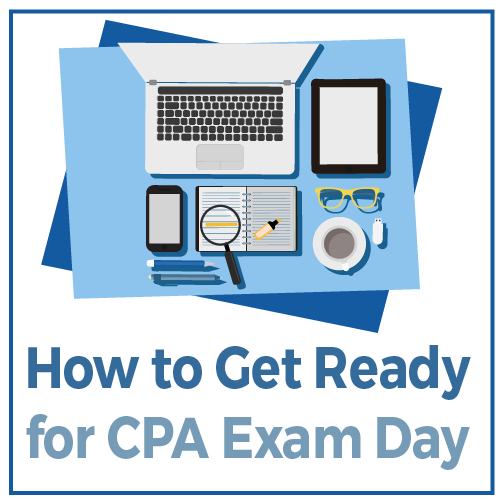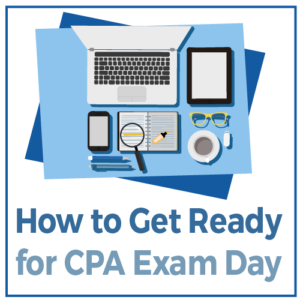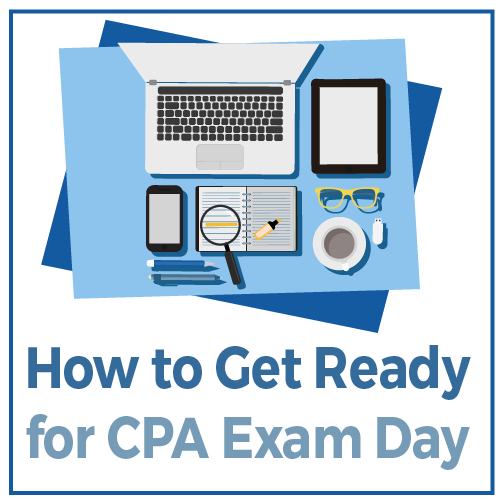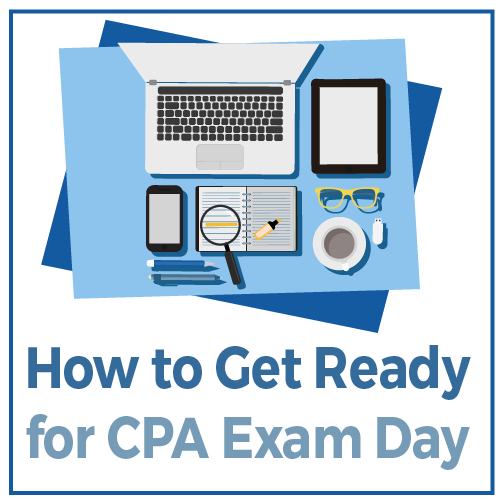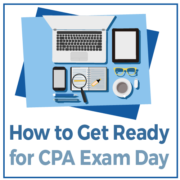 You're done studying for your upcoming CPA exam and the big test day is approaching! What should I expect? What do I bring to the test center? How does it work? Don't worry, let's break it down and get you ready to Beat The CPA exam! Here are a few tips I learned along the way to help prepare you for your CPA exam.
---
---
---
1. Last Minute Review
Use the entire week leading up to your exam to re-review the material that you haven't completely grasped and re-do all the practice questions related to those topics. Consequently, by giving yourself enough time to do a proper final review, you'll feel much more confident about passing your exam without any last minute cramming. Furthermore, if you need some questions for a particular exam section, consider getting a question bank from the top CPA prep courses.
---
Learn More About The CPA Exam
---
2. Day Before
Take it easy the day before your exam. Review your notes, summary sheets or notecards for a few hours. Also, I advise staying away from multiple choice questions or CPA review practice tests the night before. Here's why: if I got a few wrong, I would start doubting whether I was prepared enough for the daunting day ahead of me, and would spiral straight into panic mode. Ultimately, it is absolutely essential that you try to relax and get in the mindset that you have done everything you can to prepare yourself to pass. After around 8 pm, let yourself unwind and set aside a normal amount of time to get a good night's sleep.
---
3. What To Bring
On the day of your exam, you are required to bring your NTS and two valid forms of ID that must match the name given for your NTS. If you do not bring these items to the Prometric testing center or your name does not match to the NTS, you will not be allowed to take the exam. The NTS provides instructions on preparation for your appointment, valid forms of ID, and prohibited items in the testing center. Hence, be sure to read the instructions!
---
4. Arrive Early To The Testing Center
Per your NTS instructions, you are to arrive 30 minutes prior to your scheduled appointment. This is meant for time to sign in, put your belongings in the lockers (phones are required to be left in your car), scan your fingerprint, take your picture, and go through the wand metal detector. I recommend that you arrive even earlier! Unexpected things can happen (traffic, weather, etc.) so plan to arrive 30 minutes to an hour early. Take your textbook or notes with you for some last minute review while you wait.
---
Get Discounts On CPA Review Courses!
---
5. How Testing Works
When you're finally done with the whole check-in process, you'll be led into the testing cubicles (where you will be continuously monitored by video) and directed to log in. Using the launch code given to you on your NTS, log in and begin your exam within 10 minutes of entering the code. If not started within that 10 minutes, your exam will be forfeited.
You will be taking your exam in a room full of other exam takers so there are noise-canceling headphones available for each cubicle. One item that is allowed in the testing room is a pair of soft ear plugs. I found the available noise-canceling headphones to come in handy. Either I was super sensitive to noise on exam days or other exam takers were there to write novels because it seemed like I was seated next to people who were testing how loud someone can pound on those old-school keyboards. Shh!
Also, be aware that you are allowed to take breaks during each of the testlets. However, your time clock keeps ticking! If you leave the room during a testlet then you will be required to go through the whole check-in process again to get back in (wand, fingerprint, signature, checking of pockets). If possible, avoid taking a break. Use all the time you can get because you're on a tight race against the clock!
---
6. Tips During Exam
Go in feeling confident! You've done all that you can to prepare by this point. When you're seated, take a breath and start writing down your formulas and mnemonics on the note boards that are provided by the testing center (just remember to login within that initial 10 minute period before your exam is forfeited).
Begin your exam and remember to keep track of your time. You'll be surprised at how fast a three or four-hour exam passes by. Click here to see time allotted for each exam.  Time management is a priority! Strategize beforehand on how much time you would like to leave yourself to complete the last simulation testlet. For each exam, leave at least a full hour to complete the simulations. At least! During the first three testlets, don't let a multiple choice question waste your time. If you're stumped, move on and go back to it before your testlet is completed. You are not allowed to go back and forth between testlets.
---
7. You're Done!
Before you completely let out that huge sigh of relief when you've finished, write down the simulations that you were just tested on. This will act as a reminder of the kinds of topics that are tested in the simulations on the off chance (keyword: off chance) that you need to retake that same exam. This is just in case though! You were so prepared that you won't even need to revisit these notes or retake the exam. Right?!
---
Okay, Go Ahead. Relax!
Take a breath. Take a nap. Let your friends and family know that you survived. Drink a beer. Do whatever you want for the next day or two and unwind. And then on to the next exam so that you can continue on your journey to becoming a CPA!
---
Check Out the Top CPA Review Courses Today
How to Get Ready for CPA Exam Day – Checklist!
| Tips | Exam Day Breakdown |
| --- | --- |
| 1. | Day Before: Take it easy |
| 2. | Do A Last Minute Review |
| 3. | Bring Your NTS and two valid forms of ID |
| 4. | Arrive at least 30 minutes early to Testing Center |
| 5. | Pay attention to exactly how the testing works |
| 6. | Read our tips for how to stay cool during the exam |