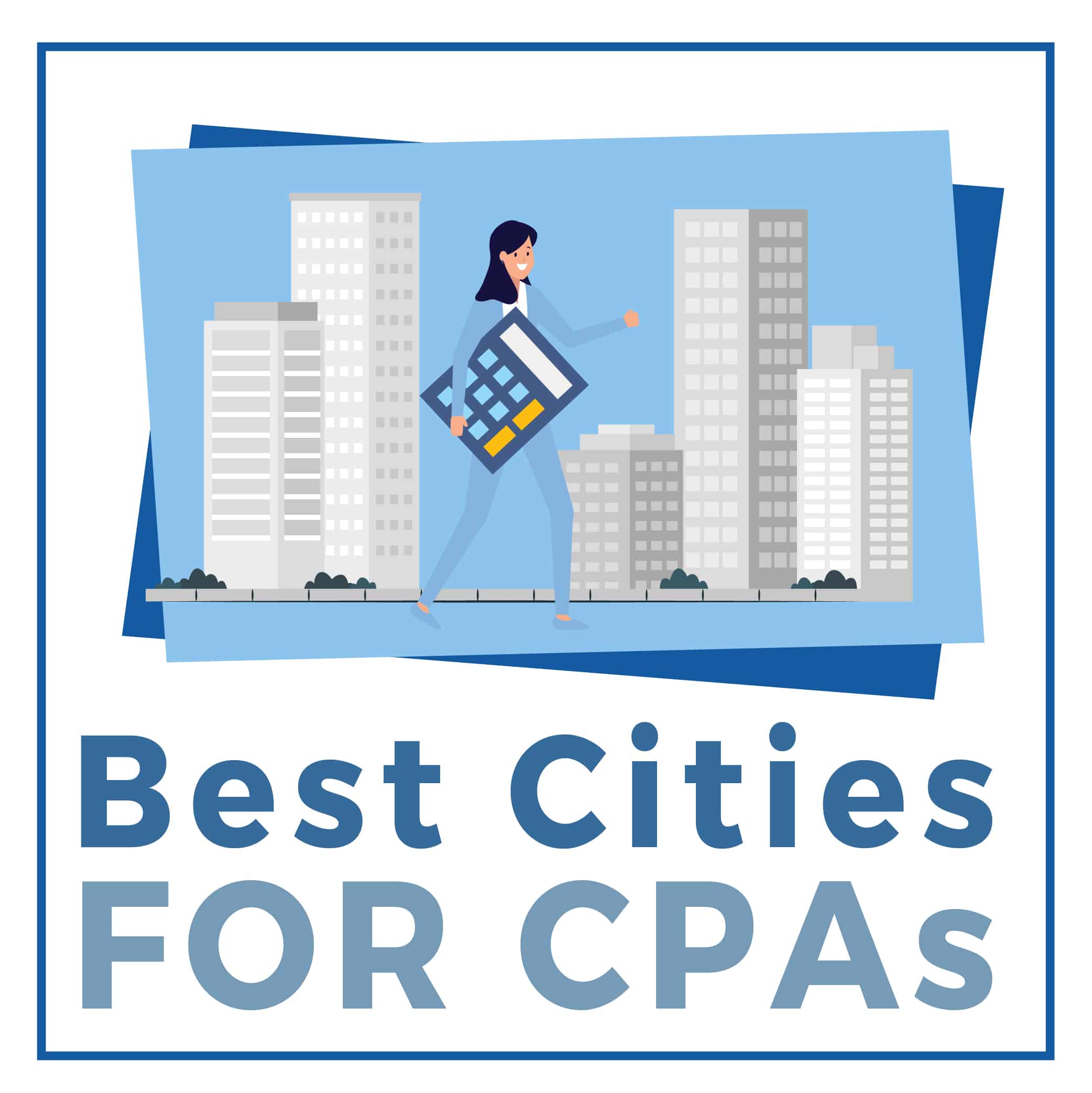 Where are the best places to work as a CPA? How about the best places to actually LIVE with an accounting degree?
The answers depend on your personal preferences, and the current job market.
When evaluating the best cities for CPAs, average salary is important. However, you should also consider a number of other factors. Company culture, job descriptions, commute times, and similar criteria should be assessed before you accept a position.
If you're deciding where to work, let's start with an overview of the job market.
Current Job Market
Current economic conditions are positive; that makes it easier to find accounting jobs in whatever city you choose. Consider the following:
CNBC reports that in 2018, US workers voluntarily quit their jobs at the fastest rate since 2001.
Why?
The article explains that "Quitting was the surest way for workers to get a raise in 2018. Slow wage growth and a tight labor market meant that workers had a better chance of increasing their earnings by leaving their current job for a new one, despite an otherwise healthy labor market."
If you're thinking about a job change, you're not alone.
The US Bureau of Labor Statistics (BLS) reported an unemployment rate of 3.7% for July of 2019— the lowest rate in 18 years. The news is also good for college graduates. The National Association of Colleges and Employers (NACE) found that employers plan to hire: "16.6 percent more new graduates from the Class of 2019 than they did from the Class of 2018 for positions in the United States."
However, the risk of an economic slowdown may impact hiring and wages in 2019 and onward.
Deloitte's 2nd quarter 2019 economic forecast explains that steady growth is possible, but tariffs and budget issues make an economic slowdown more likely.
Furthermore, the research firm Gartner recently completed a survey of compensation executives, who expected compensation budgets to increase by only 2-2.5% in 2019.
Ultimately, the job market is still good for CPAs, but your salary depends partly on your location.
Salary and the Cost of Living
Based on research performed by Glassdoor, the average base pay for a US-based CPA is $68,538. However, your compensation can vary depending on your experience level, position, and geographic location.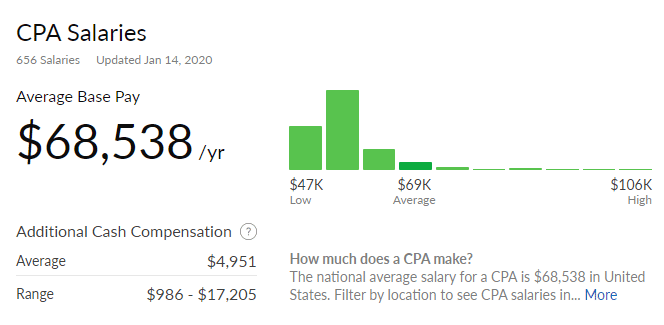 In some cities, you'll need to earn more to meet your living expenses. Glassdoor reports that the cost of living in New York City, Los Angeles, and Seattle is at least 10% higher than the national average. Houston and Chicago are 8% higher. PayScale offers a cost of living calculator you can use to research the issue.
What's the best city for you? It depends on your point of view. But if you're looking for inspiration, here are some alternative points of view:
Best Cities for CPAs
Glassdoor's 2018 report on the best cities for accountants used these criteria:
Job satisfaction
Number of job openings
Median base salary
Median home value
The top results were Pittsburgh (PA), St. Louis (MO), Indianapolis (IN), and Hartford (CT).
WalletHub's 2019 best cities for jobs report used 30 indicators of job-market strength, including job opportunities, employment growth, and average starting salary.

Source: WalletHub
The survey's top five results were Scottsdale (AZ), Columbia (MD), Orlando (FL), San Francisco (CA), and Colorado Springs (CO).
Finally, Business Insider reported on Glassdoor's 2016 regarding the best places to work and live. The survey ranked the 50 most populated cities and considered affordability and job satisfaction. Cleveland (OH), Columbus (OH), Kansas City (MO), Detroit (MI), and St. Louis (MO) were the top cities.
How can this data help you make an informed decision?
What to do Next
To decide on the right city for you, use these steps:
Job description
What type of work do you want to do? This answer may be the most important factor to consider. As an example, let's assume that Julie wants to be a corporate controller in the manufacturing industry.
Geographic region
Julie's job description will impact the regions she considers for her next job. Certain areas of the country may have more jobs in her industry.
Furthermore, there are also family and lifestyle considerations for Julie to consider. Ultimately, she decides to work in Colorado because her parents are in the area and she enjoys hiking and other mountain sports.
Cost of living
Julie performs a job search in Denver and Colorado Springs, CO. She finds two interesting opportunities at about the same level of base pay. The cost of living, however, is slightly higher in Denver, and Julie prefers the shorter commute time in Colorado Springs.
For these reasons, she accepts a controller position at a clothing manufacturer in Colorado Springs.
Do The Research
Earning your CPA designation can open up a number of job opportunities. Use the information listed here to decide on your next job location, and do your homework to find the right job for you.