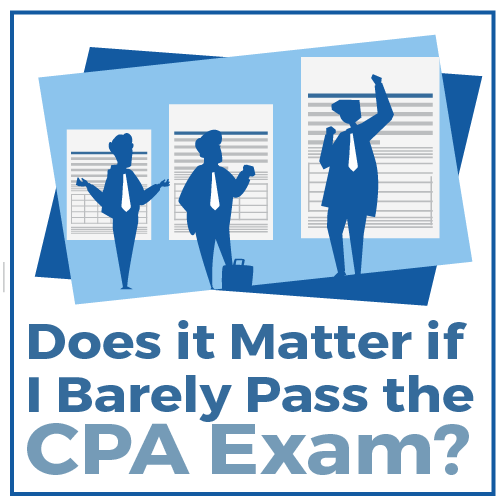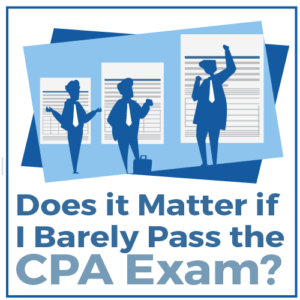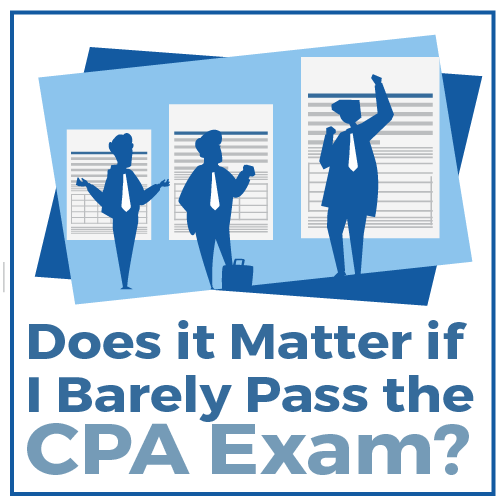 The Uniform CPA Examination tests entry level knowledge required to be a Certified Public Accountant. However, getting a perfect score of 99 doesn't mean you will be a better CPA than someone who got a 75. So don't beat yourself up if you didn't get a higher score when you pass! The magical 75 proves that you put in the exact amount of study time needed to pass. Your exact CPA exam score has little to do with your career, but it can help you in a few ways.
The CPA exam is made up of four accounting-related exam sections. A higher score on one section could mean that this in an area you should look into when selecting your career path. For example, if you barely studied and got a 90 in the AUD (Auditing and Attestation) section and actually enjoyed taking that section, maybe a career as an auditor is the right path for you. However, this shouldn't be the sole determinant for your career path. Instead, use your score breakdown as a hint to what field in accounting you would most likely thrive in.
---
---
What Are Employers Thinking?
There are a lot of opinions out there regarding whether or not to put your score on your resume. Some people say that they would hold it against you if your score was higher, while others could care less as long as you passed. To state licensing boards and future employers, passing is the only part that matters.
Imagine if you worked in public accounting and had to hire someone from hundreds of resumes. You are not going to take note of every candidate's score and rank them from lowest to highest in order to make your decision. This would negate all the other important factors that are necessary to be an outstanding employee. Sometimes it can even come off as arrogant if you put your high scores down among a sea of applicants who did not. Remember, all they want to know is if you passed, and here's why.
It's public knowledge that the CPA exam is by far one of the most difficult tests in the nation. Committing to take the exam requires hundreds of hours of study and dedication. Passing the exam means much more than the numerical value of your score; it speaks to your ability to take challenges head on and your ambitious work ethic. This is what matters to employers, not the exact score you got on the exam. A good equivalent would be to state the prestigious university you went to on your resume, but leave out your transcript and grades.
---
Learn More About The CPA Exam
---
[uam_ad id="7978″]
---
Get Discounts On CPA Review Courses!
---
The Bottom Line
CPA candidates are hardworking people and employers are looking for these qualities along with others including who you are as a person, what you can bring to the table, and what value you can bring to the company. Employers are not going to be able to discern these important things though your scores. Your chance for an interview or hire is not solely based on passing the CPA exam but instead on a whole bunch of other considerations like your background, extracurricular activities, skills/abilities, education, and whether or not you would make a good fit with the organization's culture. This is important to remember when stressing about your score, because it is meaningless compared to all the other elements considered to become a hired CPA.