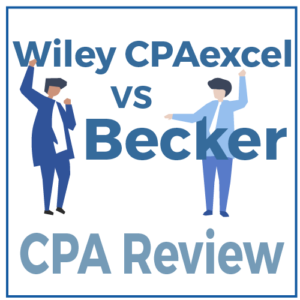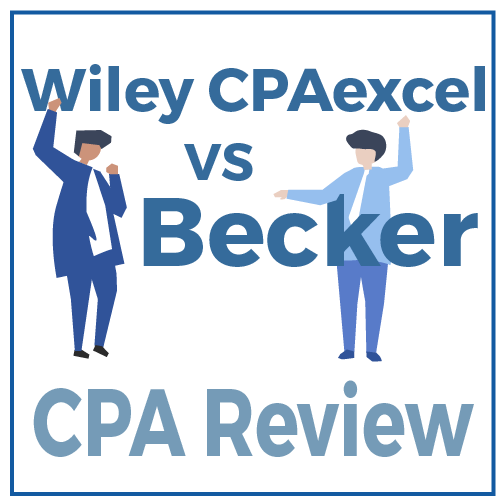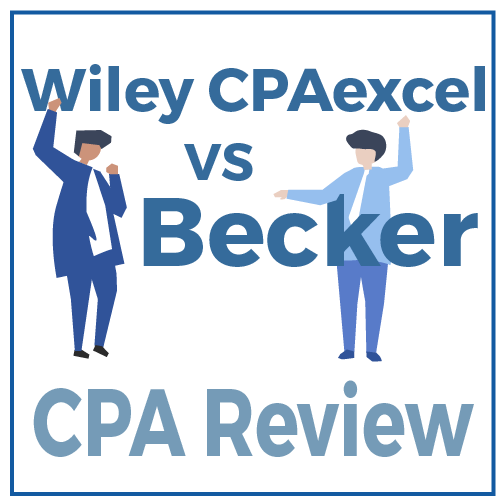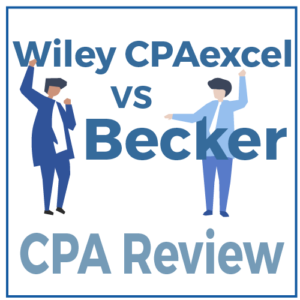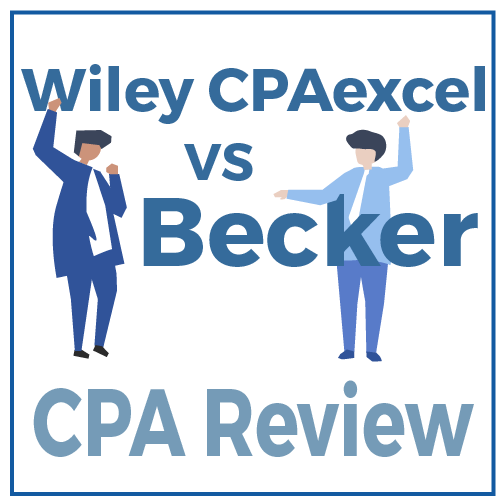 Wiley CPA and Becker CPA Review are two of the most popular CPA exam prep courses. But which one is better for test prep?
We've decided to compare and contrast Wiley and Becker CPA's textbooks, software, practice tests, and other important features so we can answer this question.
Let the Wiley vs Becker CPA showdown begin!
Wiley vs Becker CPA: Course Formats and Features
Becker's latest CPA review course, Concierge, is the ultimate package for students who want personalized support and top-notch resources to help them pass the exam. You'll work with a dedicated team of experts and your own personal success coach, who will provide up to 50 weekly one-on-one hour-long tutoring sessions. This comprehensive course also includes the complete 4-part Becker CPA Exam Review, updated regularly in line with the AICPA's blueprint, with content aligned with CPA Evolution launching in 2024.
But that's not all you'll get with Becker Concierge. You'll also have access to Final Review and bonus 900+ MCQs, printed and digital CPA review textbooks, flashcards, a mobile app, and the award-winning game. You can choose from personalized instruction with online virtual classes and live in-person classes, and you'll have access to 8 simulated exams, 12 mini exams, and unlimited custom practice tests powered by Adapt2U Technology to help you prepare for the CPA exam.
And the benefits don't stop there! Becker Concierge offers exclusive access to over 7,000 MCQs and 400+ TBS questions, including exclusive SkillBuilder solution videos. Plus, if you're Exam Day Ready SM but still don't pass, Becker will refund up to 100% of the Concierge CPA review purchase price.
Becker Concierge also includes a one-year CPE subscription and CPE certificate, ensuring that you'll be up-to-date with the latest developments in the field. If you feel like Concierge may not be the best fit for you, Becker has three other course offerings to choose from.
What About Wiley?
Wiley offers two solid CPA exam review courses that include video lectures, practice questions, study materials, and an online test bank. Their study materials include printed and digital textbooks, flashcards, and other resources to help you learn and memorize the material.
And who can resist investing in Wiley's user-friendly test bank and affordable pricing?
While Wiley may not offer as much personalized support as Becker Concierge, their courses are a great option for self-starters who want to pass the CPA exam on the first try.
Check out this Wiley vs Becker feature comparison chart, which shows the differences between their top-tier CPA exam review courses.
| | | |
| --- | --- | --- |
|   | Wiley CPA Review Features | Becker CPA Review Features |
| Study Materials | 22,000 pages of online study pages | 4-part comprehensive review course covering hundreds of topics |
| Video Lectures | 200+ hours of video lectures, 475 TBS videos, 400 master skill videos | 140+ hours of video lectures, 500 TBS videos |
| Adaptive Study | ✅ | ✅ |
| Question Bank | 12,000 practice questions, + 600 task-based simulations | 9,000 practice questions + 400 task-based simulations |
| Flashcards | 4,000 digital flashcards, 1,000 printed flashcards | 1,250 digital and printed flashcards |
| Full-length Practice Exams | 8 simulated exams, unlimited practice exams | 12 simulated exams, unlimited practice exams |
| CPA Review App & Game | ❌ | ✅ |
| Updated around CPA Exam Blueprints | ✅ | ✅ |
| Exam Planner | ✅ | ✅ |
| Final Review | ✅ | ✅ |
| Ask-an-Instructor | ✅ | ❌ |
| 1-on-1 Tutoring | Add-on package | Five sessions included |
| Pass Guarantee | ✅ | ✅ |
| 1-Year CPE Subscription | ❌ | ✅ |
Although it might seem like Wiley CPA exam review has a lot more to offer CPA candidates, the quality of Becker's CPA study materials can't be matched. For this reason, we vote the Becker courses as the winner for formatting and features.
---
---
Best CPA Exam Textbooks
Books are one of the most important CPA study materials that CPA candidates can score when enrolling in a CPA review course.
When doing Wiley vs Becker CPA review comparison for this category, Becker wins hands down.
Let's look at why.
The Becker books are comprehensive and filled with more than enough information you will need to pass the CPA exam. The content is organized and structured, with sections that are much longer than those in Wiley's.
This is an incredibly helpful resource for students who need to understand specific CPA exam subjects in greater detail, but it can be harder to fit quick study sessions into your busy schedule.
Wiley's CPA exam test prep books are a bit plain-looking books. They don't have as detailed graphics and formatting. This means that you'll have more space to take notes in the margins and in between paragraphs.
As much as we love Wiley CPA review lecture material, their books just aren't as informative or effective, so Becker CPA exam prep wins this category.
---
Learn More About The CPA Exam
---
---
Becker vs Wiley CPA Video Lectures
When it comes to Becker vs Wiley CPA videos, it's hard to choose which is the better CPA review course.
We covered this one a bit in the features section, but we think it's important to give it a little more thought. CPA prep companies know that the best CPA review courses include not only study books but also video lectures.
We listed the numbers above, but being focused on quality vs. quantity when it comes to CPA exam review videos is a mistake.
Think about it this way.
Say you have a walk-in closet with 200 shirts. But unfortunately, only two or three are your size/style. The same with pants. Would that wardrobe be very useful to you?
If, on the other hand, your closet only had 25 outfits, but they all fit well, you'd be better dressed.
It's the same with a CPA prep course. So many CPA courses are full of videos that have inaccurate or outdated information, aren't engaging, and more. So, when you're choosing a CPA review course, you want to look at quality.
Video Presentation
Becker CPA review videos are really unique and differ from other CPA review providers. They are directly related to the Becker CPA textbooks and aren't instructor focused. Instead of seeing a teacher on the screen or a Powerpoint, Becker review shows you the information you need to learn while also providing audio support. The videos are short, to the point, and lead directly into CPA review skills.
Are you a visual learner? Then, Wiley CPA might be a better choice for you. Although their video lectures can be a bit boring at times, they are detailed and good for those who learn well through visuals.
What does this look like?
Well, when it comes to Wiley vs Becker videos, Wiley's visuals are quite different. The videos start off with a familiar site: an instructor and a digital whiteboard. This might sound sterile, but most include colorful images and rolling notes. There's lots of colored highlighting, bolding, and, best of all; the videos are super short.
Almost all Wiley CPA videos are 30 minutes or less, making them great for those with focus issues or short periods to study.
So, who is the winner?
It's truly a draw. If you're not sure which to choose, test out Wiley CPA visuals and Becker CPA video lectures through their free trial options.
---
CPA Exam Practice Questions and Exams
Spoiler alert: Wiley CPA is the question king when it comes to CPA review courses. Becker CPA is better on a bunch of fronts, but not when it comes to exam practice questions.
Wiley CPAExcel's course includes an impressive combination of TBSs (Task-Based Simulations), MCQs (Multiple-Choice Questions), and "true or false" questions. The total number of all these practice questions combined is nearly 19,000. 
Wiley test bank provides a seriously dense collection of material that should last you several months of hardcore studying.
The Becker program, on the other hand, has only 8,300+ multiple-choice questions and 500+ task-based simulations. Although these numbers are always on the rise, it would be hard to catch up to Wiley's CPA review.
https://youtu.be/Lm0r9q_apbY
Now, that's not to say that there isn't an argument for Becker's CPA exam questions being of higher quality.
Still, Becker CPA takes a backseat when it comes to CPA practice questions.
Winner: 


---
Becker vs Wiley CPA Flashcards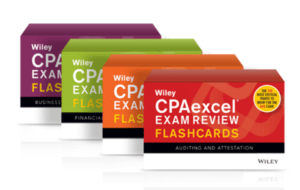 If you go with Becker, their latest update added 1,400+ digital flashcards free to all their course packages, including their cheapest Advantage tier. The digital flashcards can be found in your course dashboard, but you can also seamlessly access them on iOS (Apple), Kindle, and Android mobile devices. But if you prefer physical flashcards, those are exclusive to students enrolled in their Pro course.
Wiley CPAexcel also provides digital flashcards, with each section in their software including some that directly relate to core concepts and definitions covered in each section. And while they offer a mobile app like Becker, its performance isn't always consistent, according to student reviews.
It's a tough decision, especially since Wiley has three times as many flashcards included. Still, Becker flashcards take the win. Despite not having as many cards as Wiley, they offer a far easier study experience with them— which is the most important part of CPA exam section studying.
Winner:

---
Software and Content Updates
Both Becker CPA review courses and Wiley CPA study materials are known for being up-to-date.
Although this wasn't the case in the past, Becker now offers all course updates for free regardless of what package students are subscribed to. Each time the material covered on the CPA exam changes, you won't have to pay extra for the most relevant course.
Wiley CPAexcel lets students receive all updates and exam changes for free as well, whether they pertain to software changes or material changes. Therefore, you will always have access to up-to-date video lectures online for free.
---
Wiley vs Becker: Value Comparison
If money is no object to you, you should buy the Becker course and start your CPA journey. But if, like most CPA candidates, you're looking for one of the most popular CPA prep courses on a budget, you'll want to weigh your options.
Becker's middle-range CPA test prep course is pricey. Currently, on sale for $2,399. Its original pricing is $3,799.
The Becker CPA review cost can be covered through 3-month, 6-month, or 12-month payment plans. Thanks to this, you can still afford Becker's Pro membership on a smaller budget— which is currently the best option for CPA exam prep online (they also offer a generous group of discount codes you can take advantage of).
Wiley gives unlimited access for $2,499. Their current discount drops this price to $1,499. In addition, Wiley offers 0% financing for 12 months, with payments as low as $124.92 a month. Because of this, the Wiley CPA review course gets the win.
| | | |
| --- | --- | --- |
| CPA Review Course | Pricing | Must-Knows |
| Wiley CPA Platinum  | $2,499 | Currently on sale at a deep discount ($1,499), but we can't guarantee how long this will last! |
| Wiley CPA Pro  | $2,199 |   |
| Becker Pro | $3,799 | Currently on sale at a deep discount ($2,399), but we can't guarantee how long this will last! |
| Becker Premium | $3,099 | Currently on sale at a deep discount ($2,299), but we can't guarantee how long this will last! |
| Becker Advantage | $2,499 | Currently on sale at a deep discount ($1,999), but we can't guarantee how long this will last! |
Becker has an additional offering, Concierge, that is listed at $5,999. This is a huge bump when compared to other pricing but it comes with a lot of perks that aren't offered anywhere else.
Winner: 


---
Course Access and Support
Becker has recently updated their CPA exam prep course to offer Premium and Pro subscribed students unlimited access. This means that there are no longer any time restrictions, which can be helpful for students who find themselves failing a section of the exam.
In a similar vein, Wiley CPAexcel also never expires, and you never have to pay to renew your access or update your materials. Furthermore, you can take unlimited course repeats. This is an important feature for those who are afraid they might not pass the CPA exam the first time.
Becker CPA review programs also offer access to online material for an entire year AFTER you pass the CPA exam. This unlimited access means you can continue to look at their video lectures, practice questions, mock exams, and more long after you've passed. This is great for new CPAs who need a refresher!
One final point to compare when it comes to Wiley CPA vs Becker is their money-back guarantees. Becker offers its Becker Promise. While they won't actually return any of your money, they do allow you to review the course at no additional tuition.
As we mentioned above, Wiley is similar in that it never expires, but they do offer a bit of a money-back guarantee as well. According to their website, if you're not totally satisfied with your Wiley CPAExcel review course, you can return it within 14 days of purchase for a full refund.
When it comes to support, both offer solid academic assistance for their students through phone and e-mail. Wiley steps it up a notch, offering live chat as well. But either way, CPA candidates have nothing to worry about when it comes to assistance after purchasing access to their program.
---
Get CPA Review Course Discounts!
---
Becker vs Wiley CPA Review: Which is the Best?
It's not easy to pick which course wins when comparing the two's amazing features. Truthfully, both Becker and Wiley are safe bets. With the Becker CPA pass rate of 94% and a Wiley rate of 90%, you're sure to pass with either. Still, Becker offers better educational value when it comes to individual study materials, mobile compatibility, and more.
Just make sure you pick a CPA review course that compliments your learning style, whether it's Becker or another company!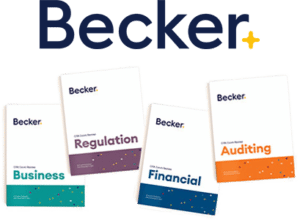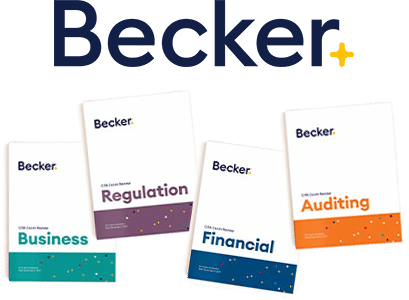 Wiley vs Becker CPA: Frequently Asked Questions
Which CPA review is best?
Becker CPA is the best, hands down.  Established in 1957, Becker is the OG in the CPA market and has been around longer than any of their competitors. When compared to the UWorld Roger CPA review, Surgent CPA, Yaeger CPA Review, Wiley CPA, and more, Becker still ranks as the top CPA course on the market. This is thanks to their adaptive learning, realistic practice exams, digital flashcards, and more. 
Does Becker CPA review have digital flashcards?
Yes. Becker review courses come with access to both printed and digital flashcards. This, along with practice tests and practice exams, can help you pass the CPA exam on the first try. This is why Becker is considered the best CPA review course on the market when it comes to test prep.
Is Wiley CPA better than Becker CPA Review?
Not for most CPA candidates. Although they both have higher-quality resources and solid support, Becker's CPA review is a better pick. Although Wiley's price point is a little better, Becker often has sales on their review program. If you're wanting to test out the courses and see for yourself, check out their free trials. out the free demos for Wiley and Becker if you want to see some of the differences in their study materials for yourself. 
Does Wiley CPA offer financing?
Yes. Wiley CPA offers financing through PayPal Credit and other payment options. This is a great option considering no interest is owed if you pay 6 months of enrolling in your course.