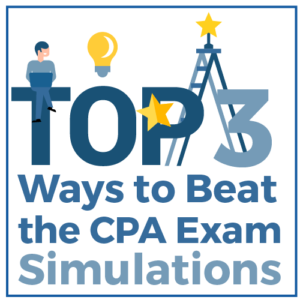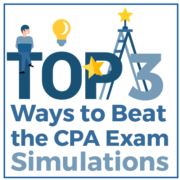 Simulations are by far the most difficult and overwhelming part of taking the CPA exams. Much like multiple choice questions, task-based simulations are meant to test your knowledge in specific areas. However, you never know what they'll test you on!
First of all, just take a deep breath and get yourself in the right mindset before diving head first into the sims.
Here are just a few helpful study tips to get you ready:
---
---
1. Plan Your Time
Before even hitting that start button, do yourself a favor and plan out your time. Each section includes three multiple choice testlets and one simulation testlet. Regarding the weight these simulations carry for each exam section's grade, they're worth 40% of FAR, AUD, and REG and 15% of BEC (which is the only written communication task-based testlet).
At the minimum (minimum!), leave yourself these recommended amounts of time for each exam:
Four Hour Exams (7 sims):
FAR – 1 hour and 30 minutes
AUD – 1 hour and 30 minutes
Three Hour Exams:
REG (6 sims) – 1 hour and 15 minutes
BEC (3 written memos) – 30 minutes
---
Learn More About The CPA Exam
---
2. Start With What You Know
One easy way to maximize your score is to start with what you're most comfortable with. By sticking with what you know first, you're less likely to waste time on a simulation question you don't know and you'll also earn more points if you happen to run out of time. If you're stuck, just move on. Time is precious!
There were times where I got so overwhelmed with the sims that I just started with the research question. The trick is to select unique words that will narrow the results down in the Authoritative Literature tab. By getting the easiest question out of the way, it was a confidence boost to move onto the harder questions and easy points. However, at the end of the day, you want to be comfortable with difficult questions, so make sure you choose a top review course to maximize your preparation.
---
Get Discounts On CPA Review Courses!
---
3. BEC Memo
The simulation portion of the CPA exam's BEC section (aka Business Environment and Concepts) requires you to write three business memos or letters in a professional format. Most candidates seem to panic on this section mainly due to lack of time. First, go back to tip #1 and plan your time accordingly.
Second, the written portion is graded based on writing capability rather than content. I've noticed that when people are running out of time, they admit to writing facts out in bullet points. Graders are actually looking for correct grammar (use the spell check!), complete sentence structure, and organization. No need to just spew everything you know about that topic! That won't get you any points.
When I took BEC, I had less than 30 minutes so I went through and quickly formatted each memo with an introduction with a relevant thesis sentence, the body with a few supporting points, and a conclusion. I was able to go back and build on one memo but the other two were left as bare-boned formatted memos/letters. Even though my memos were pretty basic I kept it professional, precisely formatted, and on topic and thus, was able to score higher on sims than on the multiple choice.
---
Conclusion
These are just a few helpful tips that worked for me. Do what works for you and beat those simulations! Don't get discouraged. Going through the sims just means that your exam is almost over. Muster all your energy and keep in mind how much work you put into this exam. You've got it!
Check Out the Top CPA Review Courses Today
---
CPA Exam Simulations
| Exam | Minimum Time  |
| --- | --- |
| FAR | 1 hour and 30 minutes |
| AUD | 1 hour and 30 minutes |
| REG (6 Sims) | 1 hour and 15 minutes |
| BED (3 Written Memos) | 30 minutes |