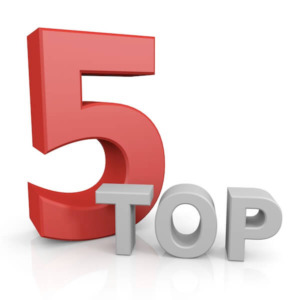 The CPA review course you choose could mean the difference between passing and failing your exams. There's no one-size-fits-all course, so it's extremely important that you choose the one that best fits your personal learning style and preferences.
These study materials will be your best friend and constant companion for the next 6 – 18 months, so your decision had better be on point.
Lucky for you, I've gotten full access to and have personally tested each of the top CPA exam prep courses on the market to save you the effort! The chart below shows what each of the top 5 courses provides (or doesn't provide) and explains what I found most important in making this critical decision.
CPA Review Courses
RANKINGS

#1

#2

#3

#4

#5

OVERALL
RATING
COMPANY
Roger CPA Review
Wiley CPAexcel
Becker CPA Review
Gleim CPA Review
Fast Forward Academy CPA
PRICE
$1695
$2,295

$1950

with Discount
$3393 

$3143




with Discount

$1399
$1,049 

$944


with Discount
BEST
FEATURE
Most Engaging Lectures
Bite-Sized Lessons
Endorsed by Big 4 Firms
Most Task Based Simulations (TBS)
Adaptive Learning System
AUDIENCE
Structured auditory learner who needs to keep motivated
Self-studier with busy schedule and little time to study
Dedicated self-studier who needs flexibility in schedules
Dedicated self-studier
Self-studier who focuses on weaknesses
COURSE
FORMATS
Online or Offline USB
Online or Offline USB
Online & Offline
Online Only
Online only
PRACTICE QUESTIONS
5,000
12,000
7,200
9,200
6,519
SIMULATIONS (TBS)
200
600
400
1,000
230
VIDEO LECTURE HOURS
100
110
100
100
N/A
FINANCING OPTIONS
AUDIO COURSE
MOBILE
APP
UNLIMITED
COURSE ACCESS
18 months
18 months
1
FLASHCARDS
$30-$50 per Section
$50 per Section
FINAL REVIEW
INCLUDED

$225 – $295 per Section
$165 per Section
STUDENT
SUPPORT
24/7 Homework Help Center
Professor Mentoring – 24 Hour Response Time
Phone & Email Support
Personal Counselor – Phone & Email Support
Email Support & Online Community Forum
PROS & CONS
Read Review
Read Review
Read Review
Read Review
Read Review
FREE TRIAL
OR DEMO
Engaging Video Lectures: The biggest selling point of this CPA exam review course is Roger himself. He's a truly dynamic and engaging teacher who makes you want to pay attention. His positive energy pulls you in and makes the material so much more interesting and it's obvious he has a passion for helping students pass the CPA exam.
High Quality Material: Roger writes his own book, creates the multiple choice questions in-house based on released AICPA questions, and teaches every lecture in the program himself. You know you're getting high quality study material based on Roger's experience and expertise.
Memorization Techniques: "The Roger Method" uses memory aids and mnemonics to help you retain the information. This makes it easier to remember the overwhelming amount of information come test day.
Flexibility to Study Your Way: Roger CPA Review offers great flexibility in how you study with convenient 24/7 online access, availability on mobile devices, offline access with USB, and audio lectures. With the various study options, you can study anywhere, at any time.
Bite-Sized Lessons: Wiley CPAexcel has created a model based on "bite-sized lessons" in which each lecture is broken down into shorter lessons that take as little as 30 minutes to complete. Shorter segments are often less overwhelming and more effective for individuals with busy schedules who can't commit to multiple-hour lectures in one sitting. These smaller lessons allow you to cover more material at a faster pace and provide you with more time to work on practice questions.
Most Technologically Advanced: CPAexcel is the most advanced and efficient system I've reviewed to date. The course uses analytics from your study progress to give you specific performance metrics and diagnostic exams to help determine your areas of improvement. Their course focuses on your personal "Study Strategy" to assess your progress and makes the best use of the time you have to complete your review. It takes into consideration how much time you have before the exam and keeps track of your daily progress.
Study On The Go: The course is available for download on multiple devices, which gives you the option to study on any mobile device when you're on the go. The course has also created a mobile app that gives you access to 12,000+ multiple choice questions and 4,000+ flashcards when you're not near a computer but have a window of free time that could be used to squeeze in some study time.
Free Continuing Access: With Wiley you'll enjoy unlimited access and free updates! The Wiley CPAexcel course has no expiration date and all updates and upgrades are free until you have passed the CPA exam. Another unique feature is that you'll continue to have access to the course for up to one year after you pass.
Exam-Identical Software: The practice multiple choice questions and simulations are presented in the exact same format that you will see on the actual exam. When exam time comes, you'll be familiar with exactly those functions and capabilities that are available at the testing center. This way you won't be overwhelmed or confused by the exam software.
#3 Becker CPA Review
OVERALL RATING: ★★★★★
Challenging Practice Questions: Becker CPA Review has more than 7,200 challenging multiple choice questions that link directly to eBook pages and lectures. Their practice questions are conveniently presented in the same format as you will find on the exam.
Flexible Course Formats: Study online or at any of the 200 classroom locations around the world. Becker is one of the few remaining courses you will be able to find that has live classes. In either course formats you get the same comprehensive course materials.
Study Anywhere: Use your laptop, Iphone or Android phone to study anytime and anywhere. Best of all your progress is always saved across all devices making it extremely convenient when you're on the go or just want to pick up where you left off.
Cost:  The Becker CPA Review is one of the most expensive options available, but it's backed by a truly comprehensive course, and unlimited support.
Comprehensive Material: The Gleim material covers every topic that could appear on the exam and goes into great detail. By studying every possible area, you can be certain that there will be no surprises when you take the actual exam.
Number of Questions: Gleim provides students with over 9,000+ multiple choice questions. Using Gleim as a supplement for FAR, I found that the questions were a lot more difficult than those on the actual exam. By mastering the difficult practice questions, I was more than prepared for the questions on my exam.
Affordable: At $1,399 Gleim is the best bang-for-your-buck course on the market and includes many valuable features. Thousands of practice questions and sims, a customizable study planner, audio lectures, and a personal counselor all make this course stand out. If you just want to use this program as a supplement, you can even purchase individual test prep for a single section of the exam for under $200.
Audio Review: An audio review is provided with the purchase of the Gleim Review System package. It can be downloaded to multiple devices to facilitate studying on the go. I used an audio review while I studied and it helped me tremendously. The information is relevant and set up logically in 20 audio lectures (per section) that last approximately 30 minutes each.
Access Until You Pass: Gleim Online will remain current for 18 months from your purchase date, but if you do not pass within that time frame by using Gleim materials, they offer extended "Access Until You Pass." If you do not pass the CPA exam sections for which you have purchased Gleim Online, you will receive unlimited continued access to Gleim Online until you pass.
Personalized and Interactive: Fast Forward Academy is one of the only review courses that is personalized specifically to each student's learning needs. The course has steered away from the typical learning model in order to create a unique approach that is designed to pinpoint students' strengths and weaknesses. This approach significantly cuts down on study time thanks to the "intelligent" CPA textbook and custom study sessions that help you focus on the areas that need it most, instead of wasting time on material that you already understand.
Affordable: Fast Forward Academy CPA review is extremely affordable at $849 for the Online Bundle package, or $1,049 for the Smart Bundle package, which comes with physical textbooks. The course is designed for students who prefer not to use physical textbooks, so the cheaper Online Bundle package is the best value.
Unlimited Access to Updates: Fast Forward Academy's clients have unlimited access to the course material thanks to their "Pass Guarantee." The materials never expire and the most current updates are provided until all exams are passed.
Community Based Help: The course gives you full access to the Fast Forward community, which connects you with other active participants. The community also allows you to track your progress compared to other students who are currently taking or have passed the CPA exam.
Large Number of Practice Questions: Fast Forward provides a study bank with 6,400+ unique multiple choice questions that are set up exactly like those on the actual exam. Each practice session is meant to be passed with at least 75%, which ensures that you will be ready for the exam. Every question provides the answer with specific explanations straight from the book. The course is set up to focus on practice questions and uses books mainly for reference rather than as the primary study tool.
Responsive Study Planner: The study planner is fully customizable and responsive to keep you on track. Once you select your study period and exclusion days, your daily study tasks are set up for you. Students can opt to receive notifications by text message to remind them of daily tasks. The texts are responsive, so if you need to reschedule a task, your calendar will rearrange itself and keep your end goal intact. Fast Forward Academy capitalizes on the knowledge that one of the best ways to pass the exam is to stay on track.